Apartment
4 Guests (1 bed)
1 Bathroom
Relax and unwind from the chaos that a large, thriving Italian city brings in this beautifully designed apartment surrounded by plants and greenery. Centrally located in the historic district of Milan with numerous shops, bars and restaurants nearby, this apartment is perfect for travellers who desire to live like a local in Italy.
This apartment has been lovingly renovated by Costanza, a mum from Milan, Italy. Alongside this apartment, she manages three more across the city. Each one has been carefully designed and renovated to showcase the design and style that Milan is famous for.
This apartment in particular features striking emerald tiles that follow you throughout the space and bring some fun and colour to an otherwise clean and minimalist place. Designer furniture and smart storage solutions help make every little interaction a joy.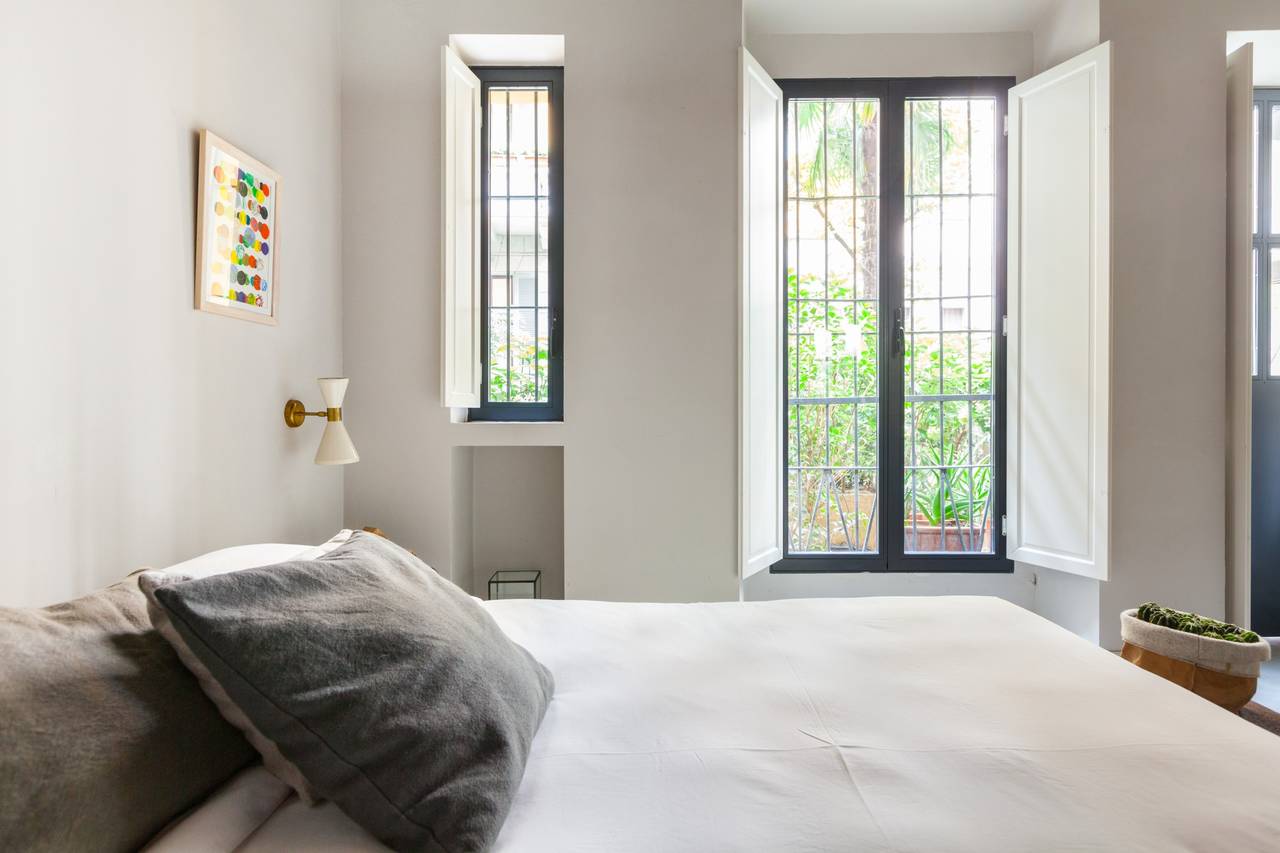 There is one large bedroom with a queen bed that comes with heaps of storage so you can unpack and really feel at home during your stay. The bedroom is flooded with natural light all day and feels bright and airy. Room-darkening shades have luckily also been fitted so you can still get some sleep when that jet-lag hits you.
The kitchen is full-sized and comes with all the amenities you'll need day-to-day as well as cooking facilities if you decide you want to prepare some meals yourself. The kitchen is part of a compact open-planned living area that also includes an amazing cork dining table and a small couch.
Facilities
Air conditioning
Coffee machine
Heating
Self-service kitchen
Self check-in
Washing machine
Wi-Fi (free)
More photos
Tap any image to see it in fullscreen
Location
Located in the central-north of Italy, Milan is a fast-paced metropolis where creativity is big business, looking good is compulsory and after-work drinks are an art form. The apartment itself is in Porta Venezia which is on the edge of the old Historical Central district. One of the best traits of the district is the great number of nightlife venues, such as restaurants (many of them started by immigrants) and the large collection of trendy shops, clubs, bars and restaurants.
How to get there
The apartment is located only a few minutes walk from the P.ta Venezia Metro station which is serviced by the number 1 Subway Line. From there it's only a few stops to the Duomo where you can see the stunning 700-year-old cathedral in all its glory. If you want to stretch the legs, it's easily walkable and only a 20-minute walk from the apartment to the centre of the city.
If you are arriving into Milan by train, you'll probably need to transit through Milan Centrale. To get to the apartment from there you'll need to take the number 2 Line north to Loreta and change to the number 1 line, from there it's just another 2 stops to P.ta Venezia (the nearest Subway stop).