Cabin
2 Guests (1 bed)
1 Bathroom
Located at over 3000 meters above the town of Bormio, Levissima 3000 Chalet is a real mountain chalet that sits high in the tops of the Italian Alps overlooking the Stelvio National Park. Accessible only by cable car, this is a one-of-a-kind cabin that offers an incomparable experience.
Levissima 3000 is a mountain Chalet on the border of the Swiss and Italian Alps that is actually located 3000m above sea level, hence the name. The entire chalet has been designed using local and sustainable materials to better help it integrate perfectly with the unique alpine landscape.
The interior of the chalet is composed of a large open space with a king size bed, two armchairs with a coffee table and pouffe. A fully-equipped, built-in kitchen sits off to the side and provides all the amenities you might need to make yourself at home.
The private bathroom is equipped with both a shower and an amazing panoramic bathtub, a unique space where you can relax in peace and enjoy the spectacular mountain peaks that surround the Chalet.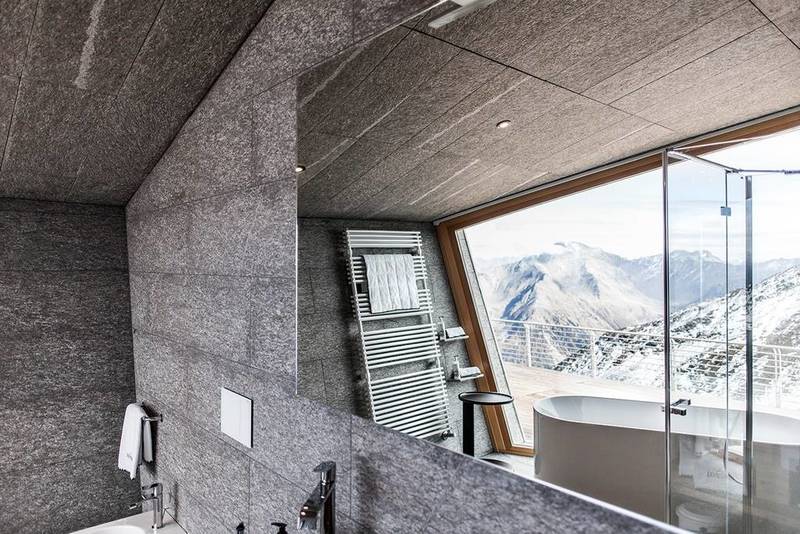 Both dinner and breakfast are prepared for you by the host. Dinner consists of a four-course tasting menu (appetizer, first course, main course and dessert) prepared by the chef with selected local products and typical Valtellina recipes.
Nearby to the lodge, you'll also find the Heaven 3000 refuge, with a bar and a panoramic restaurant and a sun terrace. Perfect for those times when feel like making your own lunch or if you're just in need of a relaxing drink.
Facilities
Breakfast
Coffee machine
Essentials
Parking (free)
Heating
Self-service kitchen
Wi-Fi (free)
More photos
Tap any image to see it in fullscreen
Location
The chalet is located 3000m above sea level high in the Italian Alps. The chalet sits on the edge of the Stelvio National Park right on the border between Italy and Switzerland.
Located in the centre of the Alps, Stelvio is the largest national park in Italy - and one of the largest in Europe - and has stunning mountain and valley scenery, and many glaciers - the Ortles-Cevedale mountains form part of the park.
How to get there
Chalet Levissima 3000 is reachable by cable car only, which is open daily from 8.45 a.m. to 3.45 p.m. The host will show you where to park your car, give the cable ticket and explain how to reach the Chalet. If you want to reach Bormio by train, the nearest station is Tirano (Sondrio) which has hourly trains to Milan, which takes around 2 and a half hours.