Located in the world famous Italian Alps - Miramonti Boutique Hotel welcomes you to a place that is both remarkable and unique; a place which possesses a special atmosphere that just oozes charm and luxury.
"We want to be known as an alpine hideaway that has something magical. Far away from the daily routine. Very close to nature", says Klaus Alber, who runs this stunning hotel together with his wife Carmen.
Owners and managers Klaus and Carmen met in hotel school, fell in love, and searched for the perfect site for their property. It came in the form of an existing hotel to which they added and upgraded – keeping the sense of its Alpine roots and proximity to nature, but adding a sense of modernity.
The hotel has 43 rooms which are broken up into 19 categories and 5 unique styles. The hotel is still a work in progress and each year new sections open that have their own flair and style. Even though it's a boutique hotel, the Miramonti also has three onsite restaurants, which specialise in South Tyrolean dishes made from local and regional produce.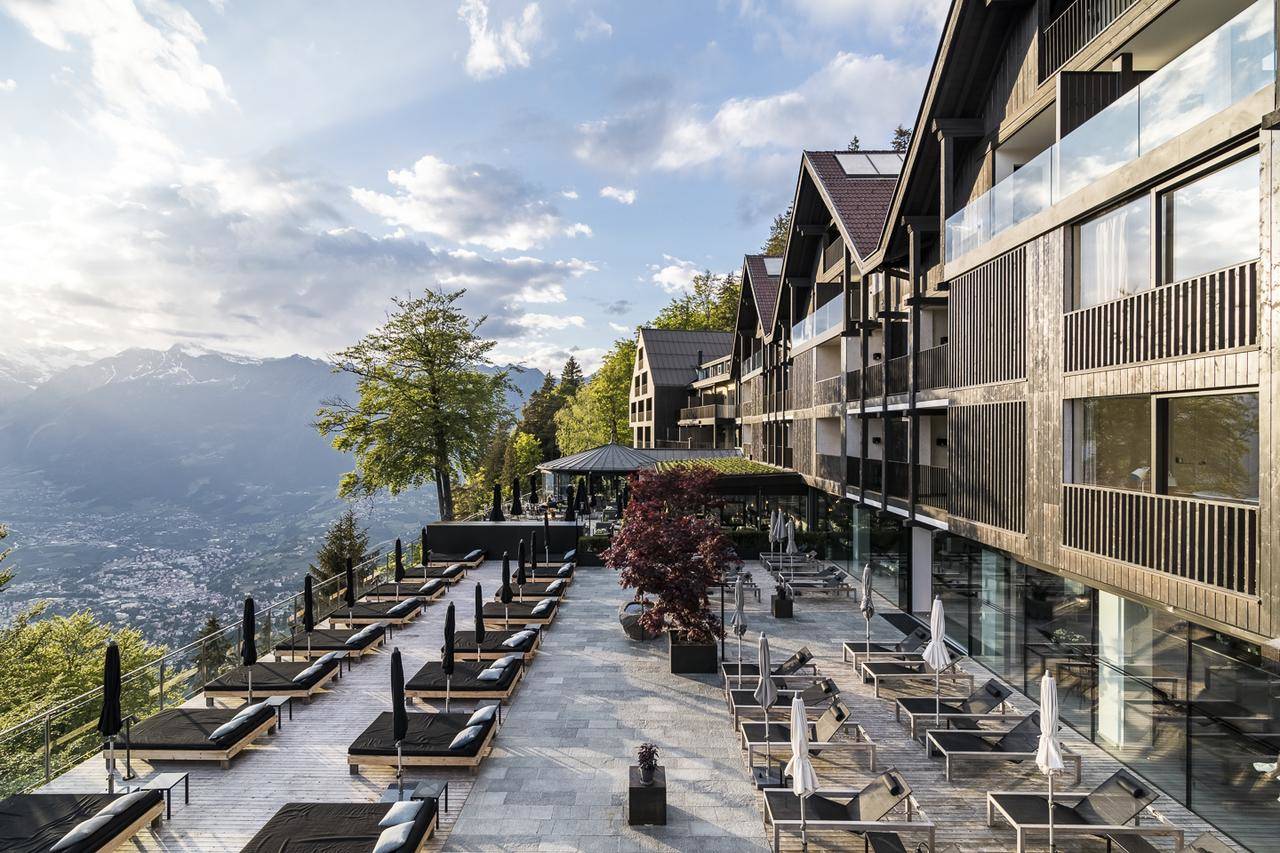 The quality of the amenities and service compared with the price point is exemplary. Even if you don't book a treatment, you can use the sauna, steam room and the infinity pool all day. Treatments are excellent (especially the Juvenate body scrub followed by a massage using essential oils).
The infinity pool is an absolute highlight of the hotel. At 16 metres long and five metres wide, it leads outdoors into the impressive landscape and appears to magically hang over the town belong. The whole year it has a warm temperature of 32 °C and is filled with cleansing mineral water.
Facilities
Airport shuttle
Bicycle Hire
Breakfast
Coffee machine
Essentials
Fitness centre
Parking (free)
Heating
Hot Tub
Restaurant
Spa facilities
Swimming pool
Wi-Fi (free)
More photos
Tap any image to see it in fullscreen
Location
The hotel sits high above the valley basin of Merano, on the sun-drenched Tschoeggelberg mountain. Merano is located in the northeastern Italian region of South Tyrol, an area known for its charming villages, thermal baths, and adventure sports. Surrounded by shady forests and wide, lushly green alpine pastures offer hiking in summer and skiing in winter.
How to get there
There are four to five daily train services from Roma Termini (in Rome) to Bolzano with half-hourly connections to Merano. This entire trip will take around 6 hours, including transfers. If you are coming from Milan, then change services at Verona to head up into the South Tyrol mountains from there. This journey will take around 4 hours. If you are driving, it will take about three hours from Milan.