Cabin
6 Guests (3 beds)
1 Bathroom
On the remote island of Vega in the north Norway Sea, just south of the Arctic circle sits a stunning, yet remote getaway. Vega Island Hideaway is a one-of-a-kind holiday rental that offers you a truly unique way to escape and explore an otherwise inhospitable, yet surreally beautiful seascape.
Growing from the rocks like the lichen and moss that bloom across them, this homely cabin has an air of belonging and permanence. Designed by the Stockholm-based studio Kolman Boye Architects, it was originally built as a haven for the clients to rediscover the area where they spent summers as children exploring the wild Nordic terrain.
The architects' intention was to create a modern boathouse—known locally as a naust—inspired by local architecture and materials, such as aged timber cladding for the façade. Large, panoramic windows throughout the house bathe the airy spaces in natural light, complemented by pale, neutral palettes.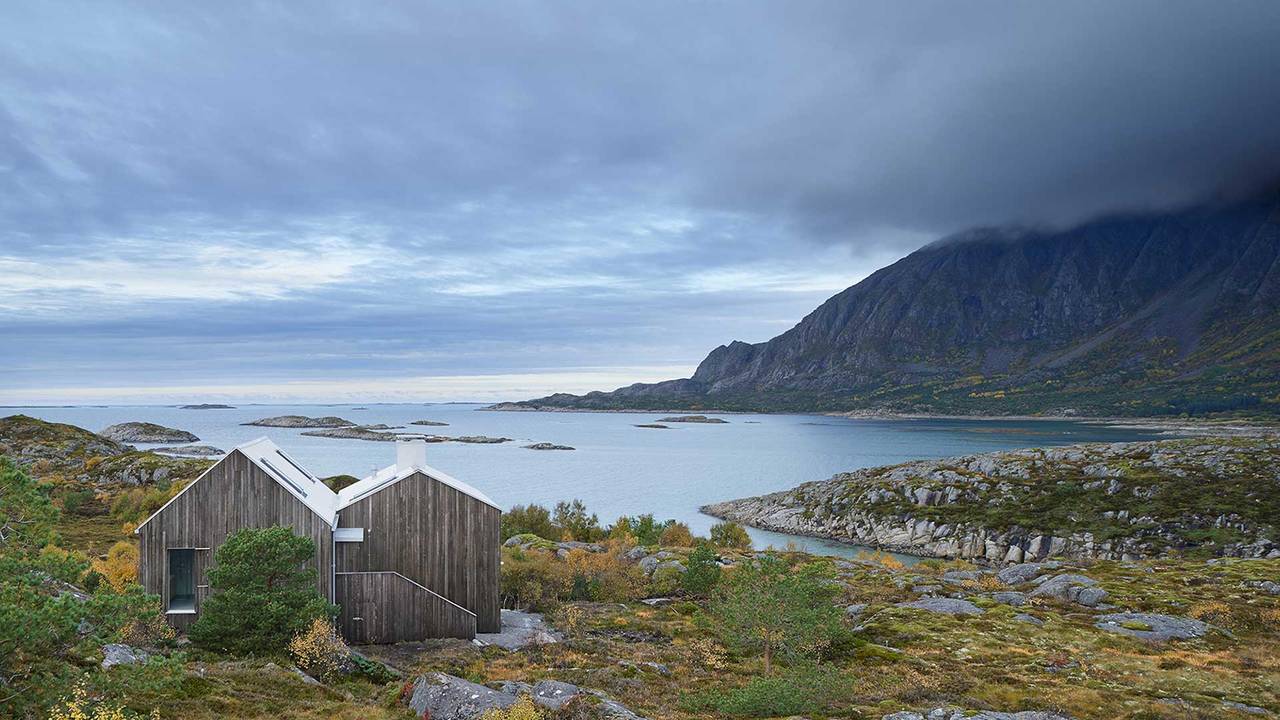 Generous windows face in three directions, looking out towards dramatic Trollvasstind Mountain, the lonely vista and the icy Norwegian Sea. Architect Janouch explains, 'Looking out one of the windows, you sit and watch an ever-changing wild landscape'
The rooms of the cabin have been arranged carefully across two levels that follow the natural topography of the landscape. The lower level is a lofty open-plan living area with a fully-equipped kitchen, dining table and cosy sitting area, all arranged around a central stone fireplace. The upper level houses two double bedrooms and a bathroom; there's another small double bedroom up in the eaves, making this a great getaway for a family or close friends.
Facilities
Coffee machine
Essentials
Fireplace
Parking (free)
Heating
Self-service kitchen
Washing machine
More photos
Tap any image to see it in fullscreen
Location
Vega Island is a UNESCO-protected island that sits just south of the Arctic circle. Vega island is actually the largest of the archipelago of Vega which is made up of a series of 6500 islands, islets and skerries.
One of the key reasons for the UNESCO inscription is the fact that the local fishermen and women have inhabited these beautiful, yet inhospitable islands in a sustainable way for over 1,500 years. Many of the old traditions were still visible: from the air-dried fish to the traditional fishing boats that are dotted around the many little inlets on the island.
How to get there
The island is accessible by car ferry from Horn on the Norwegian mainland and a 45-minute express ferry from Brønnøysund, also on the mainland. The nearest airport is the Brønnøysund Airport which is located in Brønnøy and there are daily flights from there to Oslo.