If you want to get away from it all, then you really need to try the Juvet Landscape Hotel near Alsted in west Norway. Its a truly special location where minimalist black cubes sit perched on the side of the valley overlooking amazingly unspoiled natural surroundings.
Juvet, which calls itself a "landscape hotel", aims to be different from other design hotels in that it showcases the nature that surrounds it rather than focusing on its own architecture. The hotel was designed by Oslo-based firm Jensen & Skodvin who say that their intention was to give the feeling that you're outside even though you're protected inside.
The hotel consists of nine detached rooms that are sited separately, each with a unique perspective on the rugged landscape. In addition, there is the opportunity to stay in the old buildings on the farm – the mill house, the barn and the authentically restored farmhouse.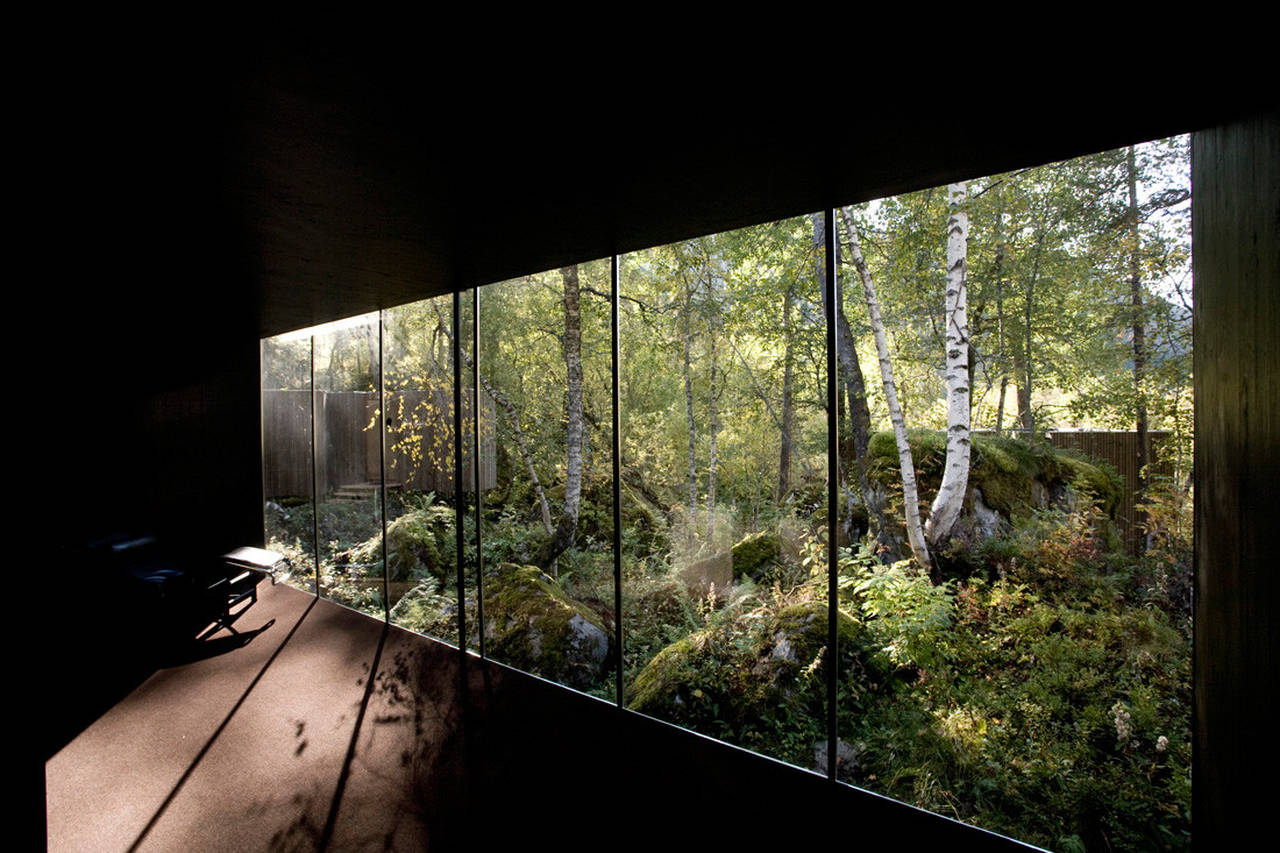 The nine wood-panelled cabins are scattered throughout the woods, to reach some of the cabins, you'll need to traverse a curved, steel bridge that hovers above the rapids. Every room in the cabins has floor-to-ceiling windows. The transparent walls are angled in different directions, maximizing light as well as privacy.
In the evenings, dinner (available on request) is served at precisely 8 pm around a large table in the former cow barn - guests mingle before being seated at the large communal table where a menu is served - all sourced naturally and prepared in the farmhouse style.
Noteworthy
In 2014, Alex Garlands film, Ex Machina, was partly shot on location at the Juvet Landscape Hotel and features prominently as the house of one of the main characters (a tech billionaire).
Facilities
Breakfast
Essentials
Fireplace
Parking (free)
Heating
Restaurant
Spa facilities
Swimming pool
Wi-Fi (free)
More photos
Tap any image to see it in fullscreen
Location
The hotel is located in a forested watery location in the small rural hamlet of Alstad, part of the Valldal Valley. Valldal is in the south-east corner of Møre og Romsdal county in West Norway. The region is surrounded by alpine mountains and steep, green hills. A wild river runs through the valley creating several lovely waterfalls, including Holsfossen, Gudbrandsjuvet and Skjerdsura which are all worth exploring.
How to get there
The hotel is located in quite a remote region of Norway and it takes around 1 hr 45 mins to drive there from Molde Airport (the nearest major airport). If you have a bit more time up your sleeve you could also consider taking the scenic route via Oslo which takes just over 6 hours by car. Public transport is quite limited in this part of Norway so it is recommended that you hire a car to get around the local area.