Cabin
2 Guests (1 bed)
1 Bathroom
Sitting perched high on slender stilts among the treetops of Finnskogen, in a quiet woodland in east Norway you'll find the one-of-a-kind PAN Treetop Cabins that have been creatively designed to offer an unique city escape without having to sacrifice the luxuries of home.
The Treetop Cabin is an ambitious architectural wonder created by Espen Surnevik and Finn-Erik Nilsen. It features a truly abstract design and was created with the vision of designing something that would easily settle into the landscape without making a big change in the surrounding nature.
The cabin is elevated by four separate stilts, reinforced by steel braided cable, and placed at a precise location within the canopy to ensure exposure to the sun, which showers the living area with natural light. Their triangular shape has enabled the creation of a space which is both atmospherically narrow and monumentally high.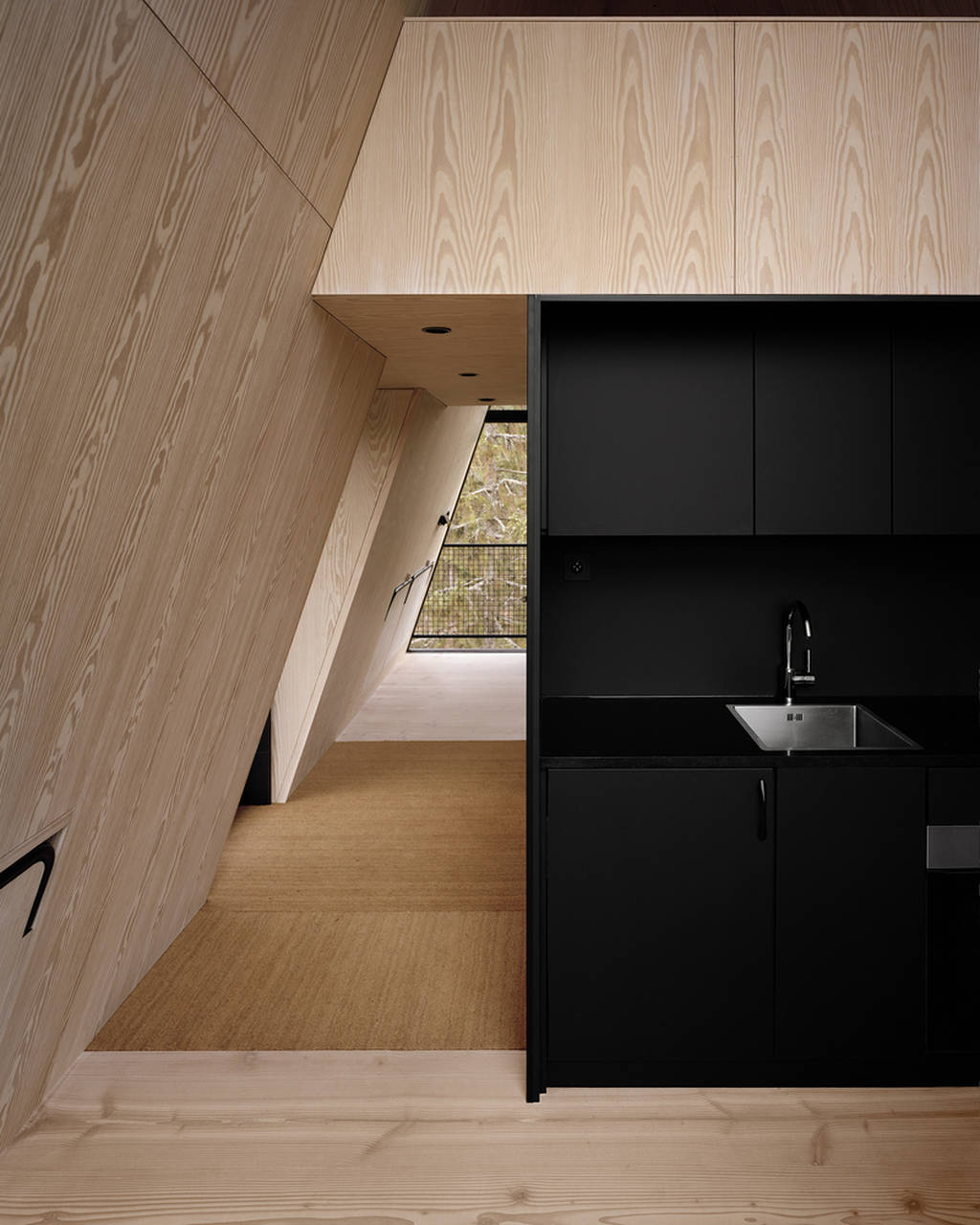 The cabins are finished in matte black steel and have been carefully placed at a precise location within the canopy to ensure exposure to the sun. They are accessed by an enclosed spiral staircase and a small footbridge and have a total floorspace of 40 Sq m each. The interiors are finished in spruce and pine, with a seating area, fold-down dining table, kitchenette and bathroom.
The cabin sleeps six and includes one double bed and four singles. The cabin comes equipped with water and electricity connections and the chill is kept at bay with both a wood-burning stove and nifty underfloor heating.
Facilities
Coffee machine
Essentials
Fireplace
Parking (free)
Heating
Self-service kitchen
Wi-Fi (free)
More photos
Tap any image to see it in fullscreen
Location
Pan Treetop Cabins are located at Finnskogen, a quiet and mostly forgotten corner of the Scandinavian wilderness. Finnskogen inherited its name from the so-called 'forest Finns', who moved into the area centuries ago to clear forest land and farm. It's located about a two-hours drive away from Oslo, where the nearest international airport is located, however its only 20 minutes from the Swedish border if you are coming from that side.
The cabin hosts highly recommend ensuring that you have a car that can handle icy and snowy conditions in winter as weather and driving conditions can change quickly.