Cabin
2 Guests (1 bed)
1 Bathroom
The Bide is a tiny designer cabin built almost entirely by hand during one of the recent lockdowns. Not only is it a charming getaway but a rural escape with an architectural twist.
This unique architecturally designed little cabin was hand built by an architect and designer couple during the Covid-19 lockdowns in England. It was originally intended as a small private retreat for their own use but have since started to offer the little cabin to others as the occasional rental.
Sustainability is at the heart of The Bide. Whilst it has been designed in a modern, contemporary architectural style, it was constructed using sustainable, eco-friendly building practices.
The Bide has sleeping space for just two people in the cosy loft bed space which sits above the kitchen. It has a luxurious king-sized bed (which even has a locally produced organic mattress) and a skylight window that offers views of the night sky and surrounding farmlands. The kitchen, whilst tiny, is fully equipped with all that you need to whip up a tasty dinner and breakfast (which can be supplied using local produce from the area).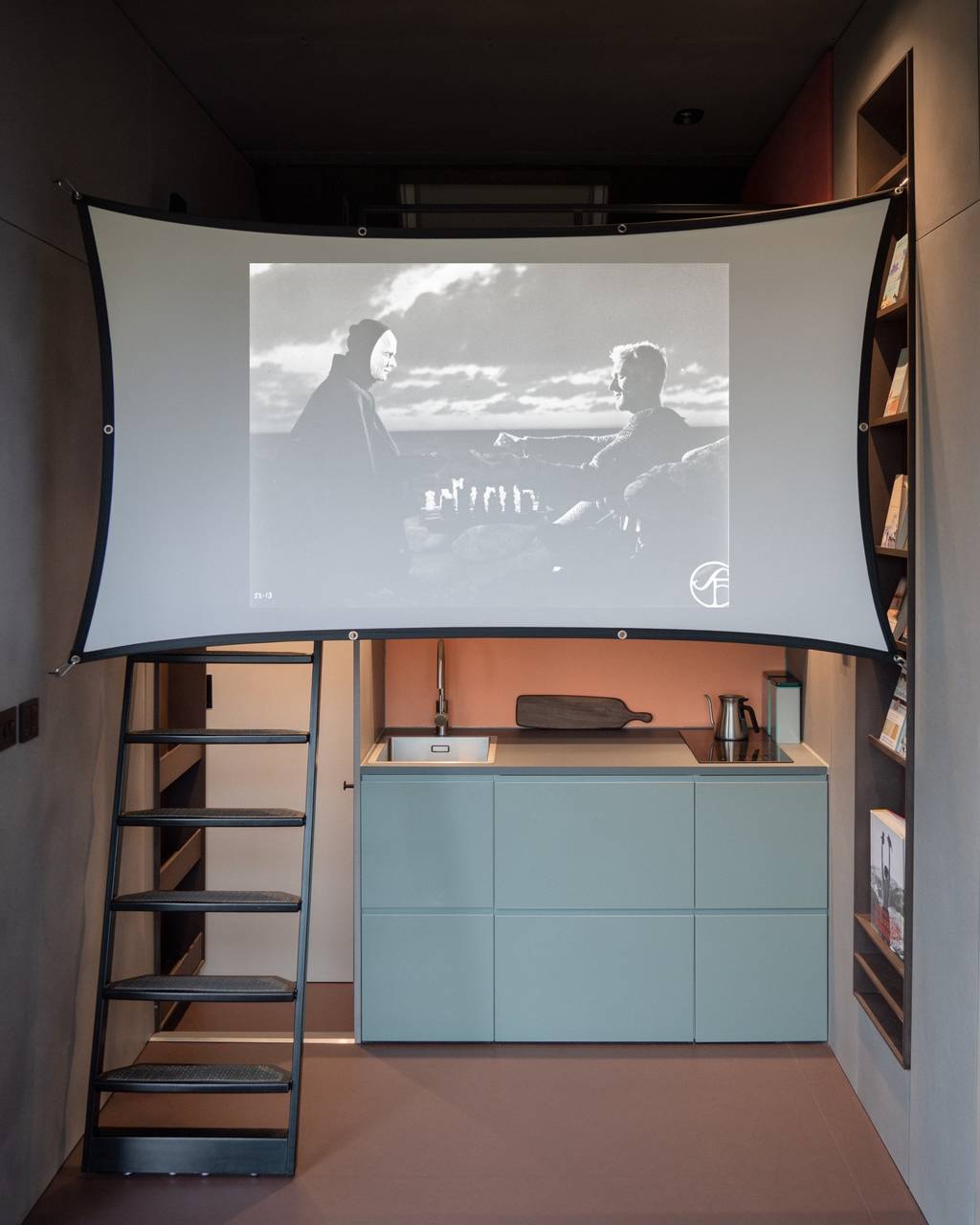 In keeping with a local and sustainable theme, the cabin's hosts also provide loads of thoughtful extras that take the already amazing cabin to the next level. There is an entire bookshelf stocked with cookbooks, thoughtful reads and classics, as well as a mini Movie library with pull-down screen and projector so you can have your own little movie nights. To top it off there is also an outdoor wood-fired hot tub and a little BBQ/Grill so you can watch the sun go down whilst you prepare dinner.
The Bide was designed using the WikiHouse system, with a wooden frame cut by CNC and bolted together by hand. Low-carbon materials were used including locally sourced sheep's wool and wood fibre insulation. There is a waterless toilet from Sweden, a decentralised MVHR system, and a Nebia vaporised water shower that uses 40 per cent less water than a regular shower.
Facilities
Breakfast
Essentials
Parking (free)
Heating
Hot Tub
Self-service kitchen
Self check-in
Wi-Fi (free)
More photos
Tap any image to see it in fullscreen
Location
The Bide is located in the rolling country fields of Dorset just outside the tiny village of Milton Abbas, a picturesque community famous for its thatched dwellings and rolling, rural scenery. It sits on an actual working farm and you'll find yourself surrounded by the farm's cows, sheep, geese and chickens that roam the property.
The town is a short 40-minute walk through the fields away and it contains a local supplies shop and a cosy little pub.
How to get there
The nearest airports are Bournemouth and Southampton. Both airports have regular flights to mainland Europe as well as other locations in England. The Bide is around 135 miles from central London and it will take you around 2 and half hours to drive.