Cabin
5 Guests (3 beds)
1 Bathroom
High Country Cabin is a small and stylishly decorated getaway cabin located just outside Twizel in the heart of the Southern Alps on the South Island of New Zealand.
High Country Cabin sits on a wild plot of land around 15 minutes from Twizel at the foot of the Ben Ohau Range. The design of the cabin was inspired by the backcountry huts which are found scattered throughout the area and it provides a unique country-style experience for a couple or group of friends.
The cabin has been smartly designed to have a small footprint while still being stylish and comfortable. It contains a cosy lounge room at the front with stunning views over the surrounding mountains and a wood burner stove to keep the chill away in winter. There is a small yet fully-equipped rustic kitchen with all the essentials you need to make your own meals as well as a full-sized bathroom.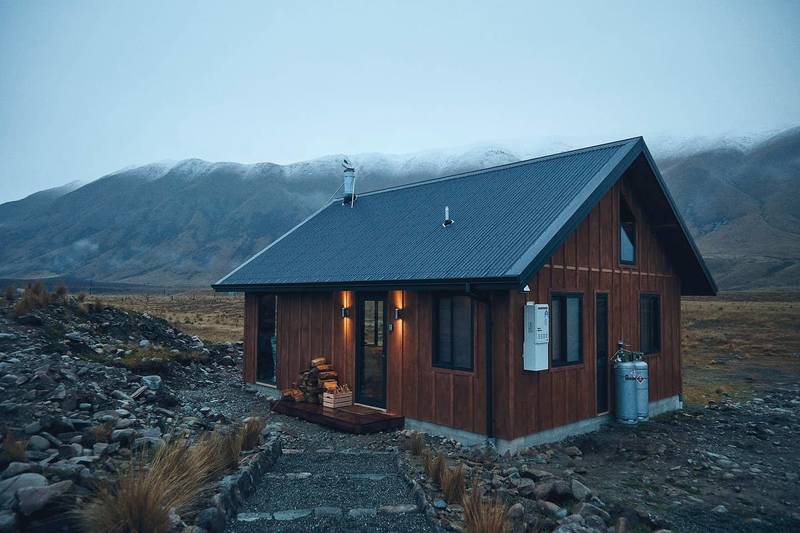 The High Country Cabin features cleverly designed spaces for sleeping (up to 5 guests at once), using partial walls for separation and a degree of privacy. However please note that there are no private bedrooms, think of it as a cosy, single room living space. There is 1 Queen bed in the master bed area on the lower level and there is a Queen mattress and Single mattress in the loft area. (Up the stairs).
Facilities
Essentials
Fireplace
Parking (free)
Heating
Self-service kitchen
Self check-in
Washing machine
Wi-Fi (free)
More photos
Tap any image to see it in fullscreen
Location
The cabin is situated 15 minutes outside of the small town of Twizel in the heart of the Mackenzie District on the South Island of New Zealand. It has direct access to all of the natural amenities that the area is world-famous for including snow sports, mountaineering, hiking & tramping, mountain biking, hunting & fishing among many other activities.
You might recognise the surrounding landscape from the Lord of the Rings movies. The area played host to the largest scene in The Return Of The King, The Battle Of Pelennor Fields.
How to get there
It is located around 3 h 26 min (284.8 km) by car from Christchurch International Airport which has regular connections to most major cities around the world as well as other cities in New Zealand. If you are coming from Queenstown it will take around 2 h 24 min by car. Expect delays and detours during the deepest part of winter (July) as it can get quite snowy from time to time.