House
10 Guests (5 beds)
5 Bathrooms
If you're looking for a one-of-a-kind tropical paradise to call home, look no further than Villa Chameleon. The modernist architecture of the house combined with its textured local materials offers spacious, contemporary yet cosy living experience.
Huge floor-to-ceiling windows maintain the connection with the outdoors by framing panoramic views of the tree canopy and the Bali holiday home's private garden, while the main structure of the building is practically embedded into the hillside thanks to their grass covered roofs.
The main part of the house contains the living spaces, while the two smaller pavilions contain guest bedrooms and an outdoor pool with stunning bar and pool lounge. The villa even Includes a wood-fired pizza oven for your own use. A fifth bedroom doubles as a wellness space for yoga and meditation, and there is a lush rooftop garden for exercise out in the sun.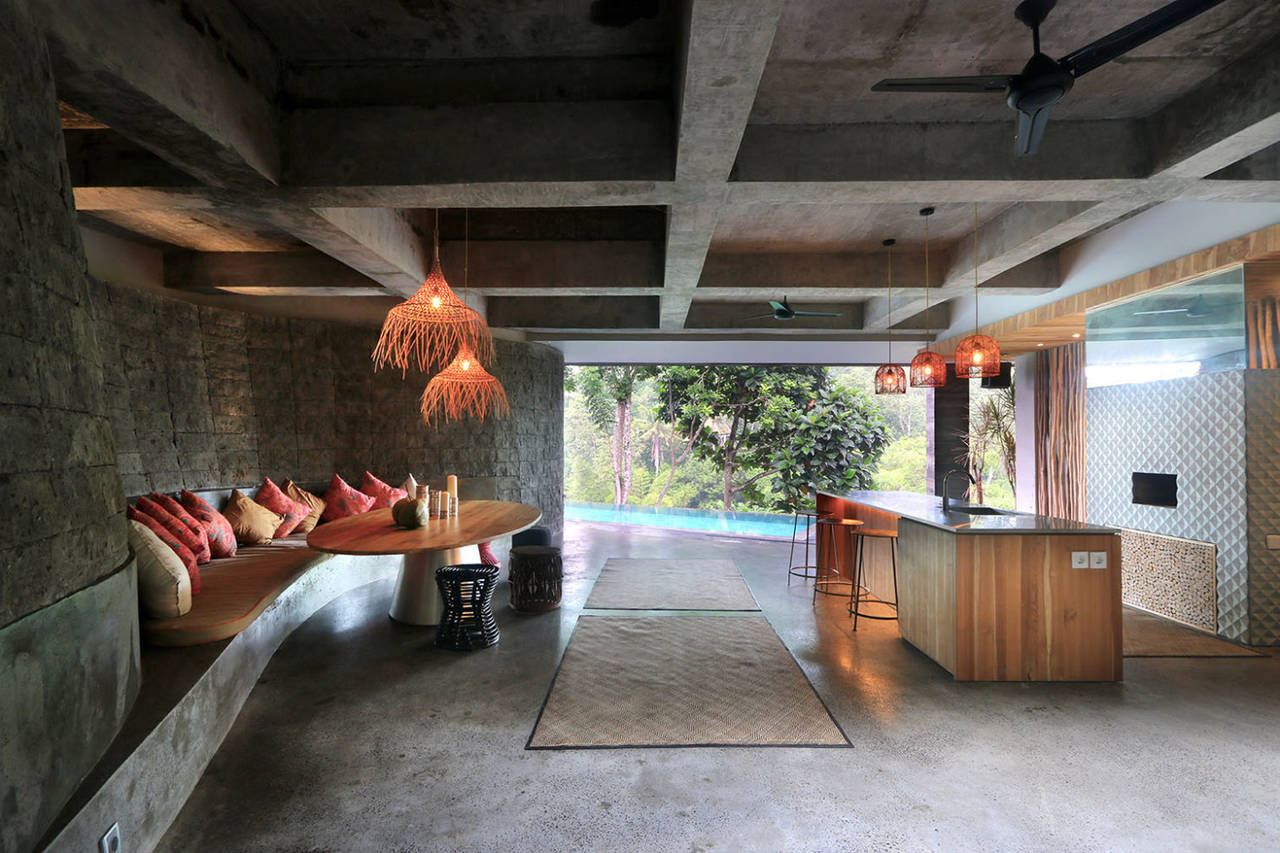 Villa Chameleon is located half way between the bustle of trendy Canggu and the quiet fields of Tanah Lot and is surrounded by lush rice paddies. Enjoy the peace and beauty of this rural location while being just minutes away from all that the area has to offer. The Villa is just 15 minutes drive from the beach and the restaurants of Canggu. But if you prefer to dine in, the house comes fully serviced with a private chef, housekeeper, gardener and a driver – available on request.
A stay at Villa Chameleon will leave you feeling refreshed, relaxed, rejuvenated and ready for your next adventure.
Facilities
Air conditioning
Breakfast
Coffee machine
Essentials
Fireplace
Parking (free)
Hot Tub
Self-service kitchen
Swimming pool
Washing machine
Wi-Fi (free)
More photos
Tap any image to see it in fullscreen
Location
Villa Chameleon is located about halfway between Canggu and Tanah Lot. Canggu offers trendy restuarants, shops and beach bars whilst Tannag Lot offers a more relaxed slower vibe and you'll see more rice fields than restaurants, so which ever side of Bali you prefer, this stunning location offers it all.
How to get there
The nearest airport is the main international airport of Bali (Denpasar Airport) which is just a bit further south of the villa. There are daily flights to most cities in South East Asia, such as Singapore and Kuala Lumpur and has direct flights to almost all major cities in Australia. Our best advice, if coming from the airport is to get a taxi to the villa. You can also hire a car or scooter and drive yourself (around 45 minutes), but beware of the intense Balinese traffic.
Address: Buwit, Kediri, Tabanan Regency, Bali 82121, Indonesia
View larger map