Set on the edge of a river about 15 minutes from Ubud's hectic centre, Bambu Indah sits in serene contrast with the frenetic outside world. It consists of 17 unique buildings ranging from traditional Javanese bridal houses to stunning bamboo architectural wonders.
This self-described eco-lifestyle boutique hotel is owned by John and Cynthia Hardy of luxury jewellery company fame. They started the hotel years ago as a place for friends to come and relax, over time it has grown and evolved organically into a truly amazing and dynamic nature-lovers' retreat.
The resort consists of 17 unique standalone cabins and villas with no two alike. Each one has been lovingly designed and crafted using traditional building techniques and local timbers and bamboos.
There are the 100-year-old Javanese bridal houses constructed from teak wood, to bamboo-crafted treehouses and an open-air room with a swooping hammered-copper, moon-shaped roof. Some are set in ridge-top rice paddies, while others are nestled deep among the trees for the ultimate privacy.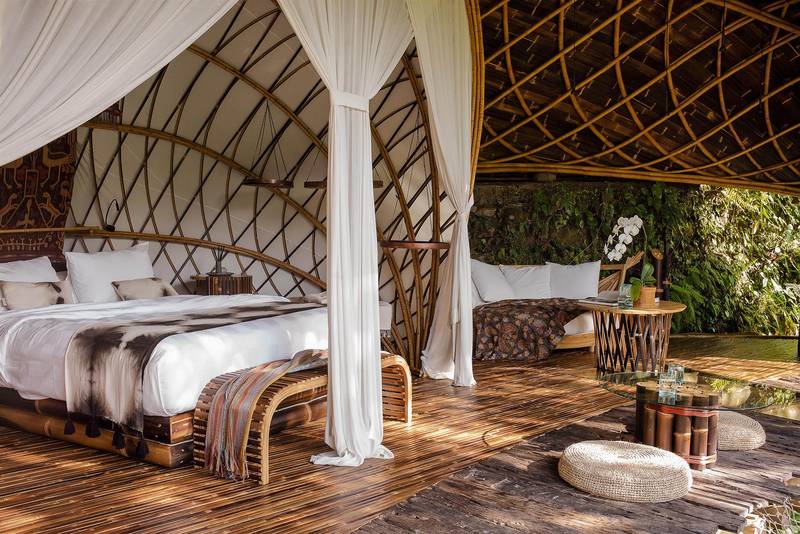 The two newest structures on the property are The Moon and Copper houses. They were designed by owner John Hardy and his daughter Elora, with the expert help of Ibuku, a local architecture and design firm known for conjuring lavish structures entirely from bamboo. The Moon House resembles a soaring crescent-shaped basket, its otherworldly form typical of the company's creativity and technical prowess. The Copper House echoes this curvilinear silhouette with a bamboo roof wrapped in tin copper.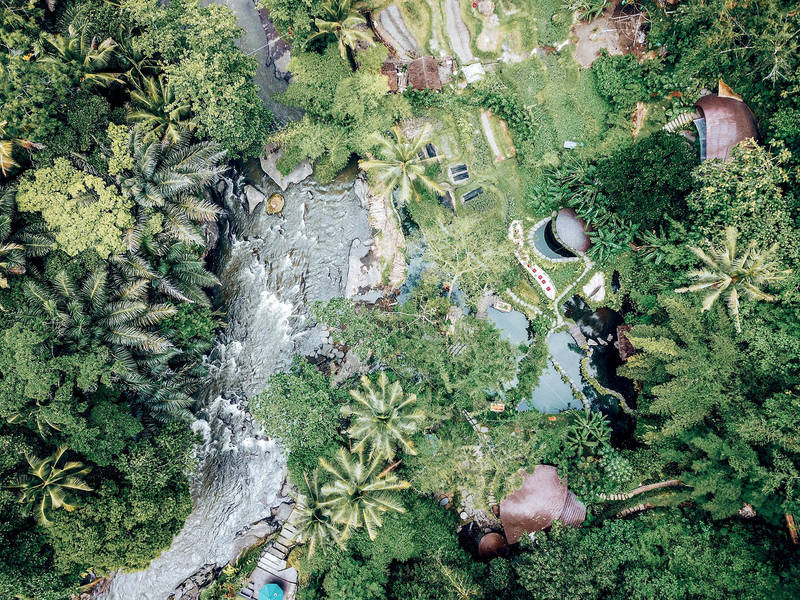 There's a natural swimming kolan (swimming pool) surrounded by large river stones complete with an Indiana Jones-like swing for when you need to get your adrenaline running. Rather than manicured lawns, the property's grounds are covered with vegetable beds and local edible and ceremonial plants.
There are two restaurants, both set in traditional wood structures with high ceilings and open-air sides. They serve delicious, spice-laden local food made with ingredients like kale or pumpkin from the organic garden. A riverside deck is dotted with pillows and hanging swing chairs that will make you lazy just looking at them.
Facilities
24-hour front desk
Airport shuttle
Breakfast
Essentials
Parking (free)
Restaurant
Spa facilities
Swimming pool
Wi-Fi (free)
More photos
Tap any image to see it in fullscreen
Location
Bambu Indah is only a short 15-minute drive from central Ubud. If you have never been to Ubud, you'll very quickly find that it is one of those places where a holiday of a few days can easily turn into a stay of weeks, months or even years. You'll find world-class restaurants that share the small town with vegan eateries, smoky live music venues and cocktail bars. It is Bali's cultural heart and the artistic centre of the island.
The resort is around an hour's drive from Ngurah Rai Airport which has regular connections to most major international cities in Asia and Australia with easy connections to the USA and Europe. We recommend you take a taxi when going between the airport and the resort or organise a private airport transfer directly to the resort.