House
4 Guests (2 beds)
2 Bathrooms
Aura House is a unique villa located just outside Ubud on the Indonesian island of Bali. the villa has been crafted entirely of local Indonesian bamboo, and sits atop the picturesque River Gorge, surrounded by tropical jungle.
Aura house is a breathtakingly original space spread out over three floors and is the perfect getaway for those who are looking for a place where they can disconnect from the world around them. Be ready to be awakened by the sun peeking into your room and the sounds of the river rushing down below.
The bamboo villa has two private en-suite bedrooms, a large and beautifully furnished living room, a small fully-equipped kitchen and a private swimming pool. The villa is laid out across three levels with each one offering a different view over the surrounding Balinese jungle. The treehouse-like structure also has terraces on each level, which are great for dining, showering, doing yoga, or just hanging out in a hammock.
All of the fixtures inside the Bali holiday home, including light fittings and kitchen cabinets, are made from bamboo and have been handcrafted by locals from the island.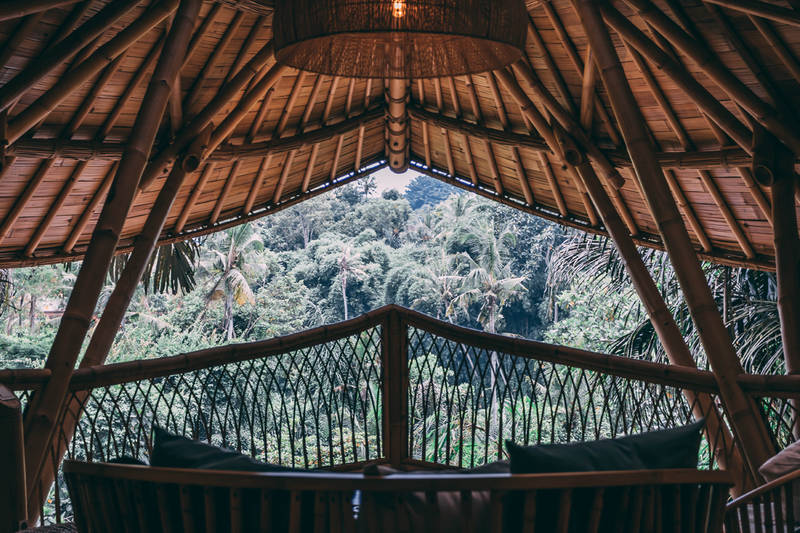 The villa is part of the Green Village ecosystem, a compound for like-minded individuals seeking a more sustainable and authentic way of living, and an alternative to the stresses of modern society. It has been recognized as one of Bali's most remarkable sustainable communities. Each luxury villa and house in Green Village is constructed almost entirely from bamboo, custom-designed by the IBUKU architectural team and built by hand.
Guests of the bamboo villa may also access the compounds communal space, which includes a natural pool, a bamboo pavilion for dining, and the communal kitchen restaurant where guests may order breakfast, lunch, snacks, drinks and dinner.
Facilities
Air conditioning
Essentials
Parking (free)
Self-service kitchen
Swimming pool
Wi-Fi (free)
More photos
Tap any image to see it in fullscreen
Location
The Aura House is located about halfway between Denpasar and Ubud. There are many things to do nearby such as trekking through the rice fields, climbing Gunung Agung, visiting the Tirta Gangga and Ujung Temples, or even going snorkelling and scuba diving down at the coast.
How to get there
The nearest airport is the Denpasar Airport down in the south of the island of Bali. Denpasar connects daily to most cities in South East Asia, such as Singapore and Bangkok and has direct flights to almost all major cities in Australia.
Our best advice, if coming from the airport, is to get a taxi to the Aura House. You can also hire a car or scooter and drive yourself (around 1.5 hours), but beware of the intense Balinese traffic. (It is about 60mins from Ubud if you are coming from there).