Cabin
2 Guests (1 bed)
1 Bathroom
This South Gippsland farm-house cabin is a prime example of contemporary rural Australian style at its best. The Cabin has been designed and handcrafted by local makers to provide you with a unique accommodation experience, complete with Japanese inspired wooden Bath.
Located on the outskirts of the charming township of Meeniyan, the Cabin looks over 2 acres of open space, with uninterrupted views across the Tarwin Valley. The property was originally a small dairy farm and is part of a larger development re-purposing disused farm buildings into modern places to stay.
The cabin has one bedroom with a large queen bed that has been fitted out in luxurious linen bedding. There is a Japanese inspired bathroom that features a stunning Cyprus bathtub. A full kitchen and basic larder are there for your use, including welcoming supply of local staples. The interior of the cabin has been of earthy tones with warm timbers, eucalyptus green, blackened steel and bright brass accents.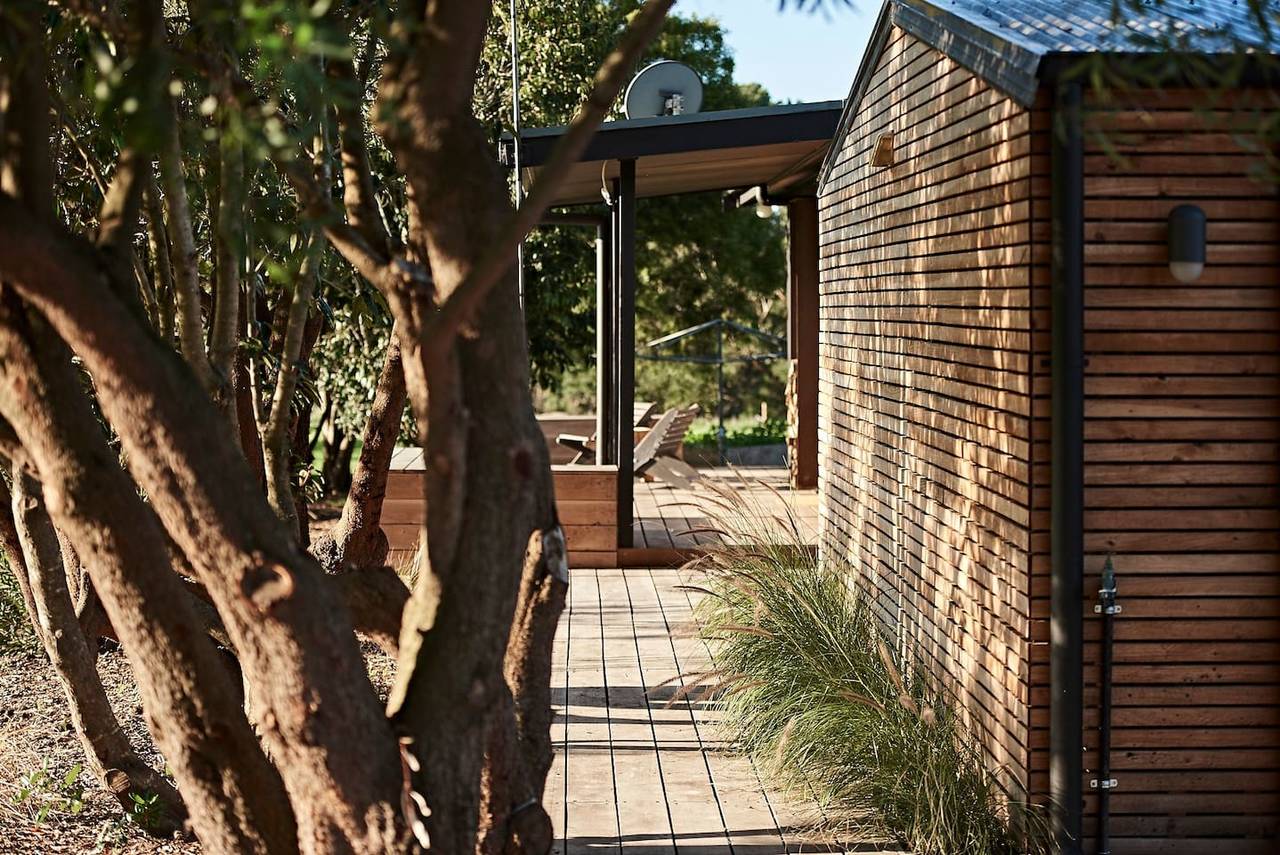 The cabin includes many other handcrafted elements that have been designed and made especially for the space. The design and general aesthetic draw inspiration from the local landscape with a nod to Danish and Japanese sensibilities. You'll appreciate and find relaxation in the earthy tones that surround you with warm timbers, eucalyptus green, blackened steel and bright brass accents making up the interior of the cabin.
The Cabin is quite private, but it does sit adjacent to the other properties at Ross Farm the Barn + the Dairy which are also available to stay in. Ross Farm Cabin has been designed with private outlooks and vista's in mind so you'll still feel like you're all on your own in the middle of this wonderful farm.
Getting out and about
The property has horse yards for anyone wanting to take advantage of the local Great Southern Rail Trail. (provide your own horse!) Mountain bikes are also provided for you to explore the surrounding farmland and wilderness.
Facilities
Air conditioning
Coffee machine
Essentials
Parking (free)
Heating
Self-service kitchen
Wi-Fi (free)
More photos
Tap any image to see it in fullscreen
Location
The cabin is located in South Gippsland, which is an area about 1 and half hours outside of Melbourne, this is a region that encapsulates a huge range of variables such as quaint seaside villages, alpine towns and charming farming communities. Relax on unspoilt beaches, fill up on farm-fresh produce and get active on the region's lakes, rivers and mountain ranges.
How to get there
The cabin is out in the middle of the South Gippsland farmland, therefore a car would be highly recommended if planning to stay here. If you are driving from Melbourne, it will take around 1 hr 45mins to get here. If you are coming from the Melbourne Tullamarine Airport the drive will take around 2 hrs 10mins. Melbourne Tullamarine has daily connections to most cities in the world and hourly flights to Sydney, Brisbane and Adelaide.