House
6 Guests (3 beds)
2 Bathrooms
Welcome to Liptrap Loft, a rustic and boutique getaway that celebrates nature and wildlife in the charming rural setting of South Gippsland, Victoria.
Liptrap Loft was purchased back ing 2005 from its original eccentric owner who had constructed the house himself by hand using a collection of interesting recycled materials. The new owners have taken this amazing house and enhanced it into house that blends modern Japanese-influenced architecture with recycled materials to create an absolutely unique place to stay.
The hosts (Fleur and Lisa) refer to Liptrap Loft as more of a cabin than a house - they say it's one big, charming, open plan loft with everything you need for a romantic weekend away, or an extended summer stay with your family and friends. The cabin sits on five acres of farmland all to itself, so you'll feel pretty secluded no matter how many people you bring with you. The cabin can sleep up to six, but we think its best suited to 4 people.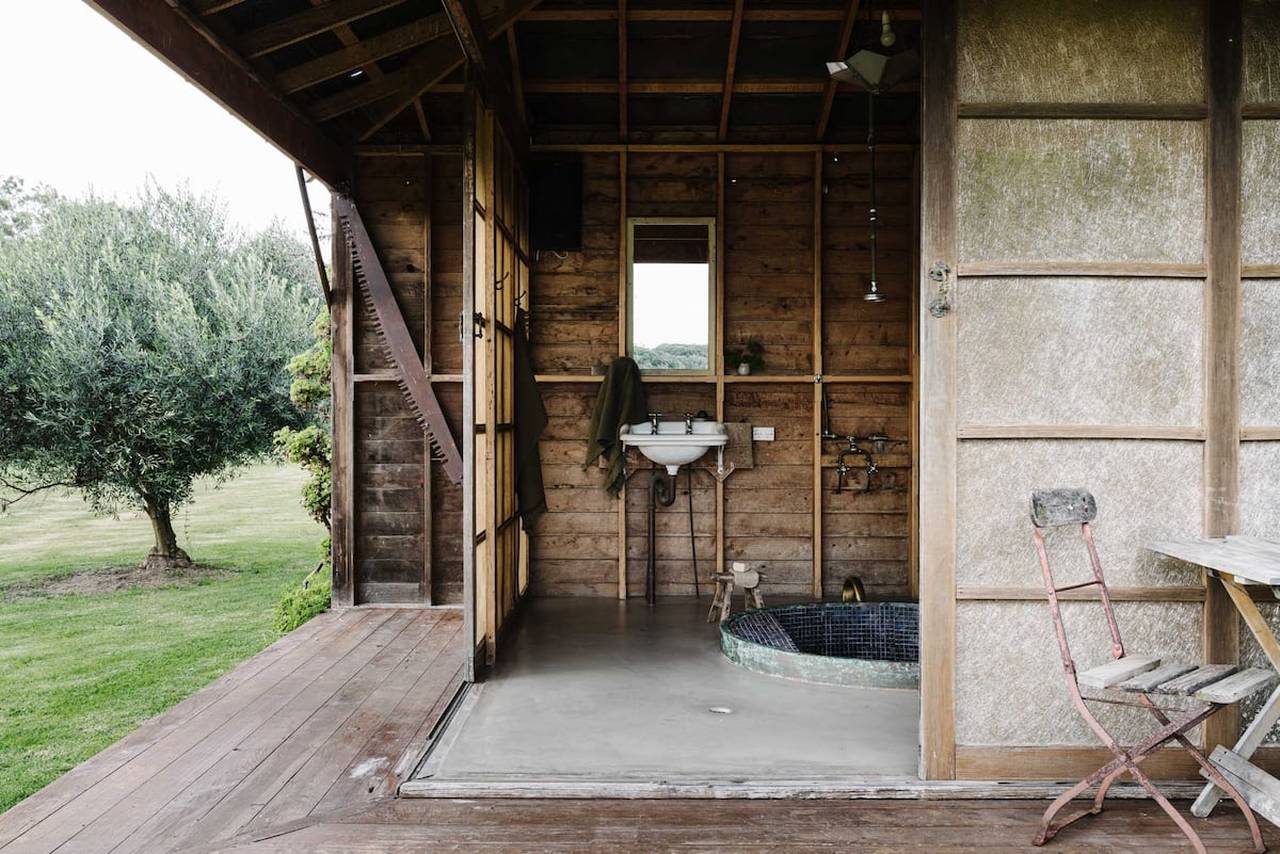 The cabin has creature comforts without too many mod cons. There's no TV, for example, but there's a hammock for gazing at the stars. The wi-fi is a little patchy, but there's a stacked bookshelf and lawn games to keep you entertained.
Our absolute favourite feature of Liptrap Loft is one-of-a-kind the Japanese Bath House and the cute little outdoor shower that all combine to add to luxury, yet rustic feel of this unique stay.
Facilities
Coffee machine
Essentials
Fireplace
Parking (free)
Heating
Hot Tub
Pet friendly
Self-service kitchen
Self check-in
Washing machine
Wi-Fi (free)
More photos
Tap any image to see it in fullscreen
Location
The Loft is located in South Gippsland, which is an area about 1 and half hours south of Melbourne, this is a region that encapsulates a huge range of variables such as quaint seaside villages, alpine towns and charming farming communities. Relax on unspoilt beaches, fill up on farm-fresh produce and get active on the region's lakes, rivers and mountain ranges.
How to get there
The cabin is out in the middle of the South Gippsland farmland, therefore a car would be highly recommended if planning to stay here. If you are driving from Melbourne, it will take around 1 hr 45mins to get here. If you are coming from the Melbourne Tullamarine Airport the drive will take around 2 hrs 10mins. Melbourne Tullamarine has daily connections to most cities in the world and hourly flights to Sydney, Brisbane and Adelaide.