Cabin
2 Guests (1 bed)
1 Bathroom
This stunning A-Frame chalet sits perched atop a hill overlooking the surrounding Kimo Valley farm in central New South Wales, Australia. Architecturally designed and made of local timber, steel and galvanised iron it stands out and yet is at one with its natural surroundings.
This one-room A-frame operates completely off-grid. Although it resembles a tent, the tiny house is anything but rugged. The interior is furnished with a small seating area and queen-sized bed, allowing guests to enjoy the remote location in optimal comfort. A wood-burning fireplace keeps the space warm and cosy during the chilly winter nights, but when weather permits, the outdoor deck is the heart of the beautiful cabin, offering stunning panoramic views of the surrounding farmland.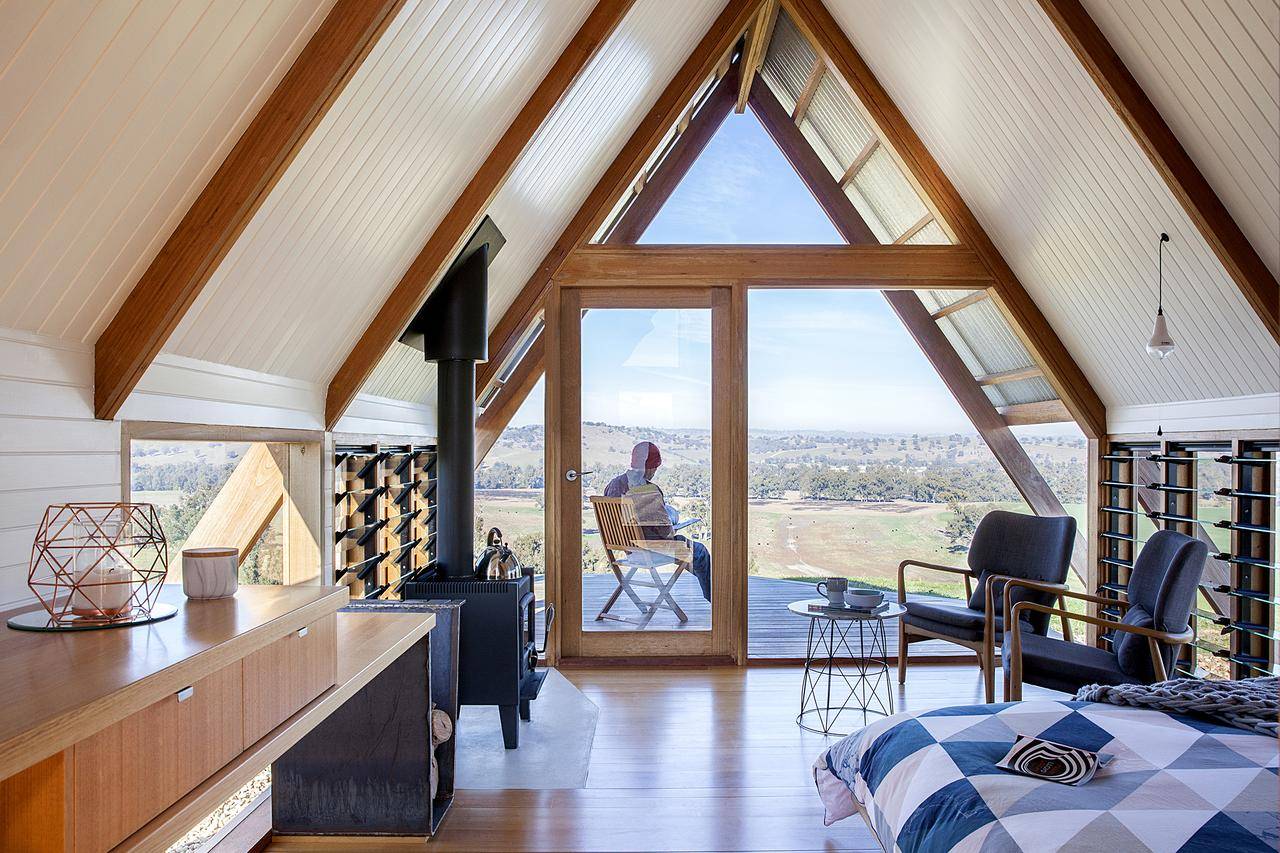 The Ecohut is the latest addition to Kimo Estate, a second generation farm which has diversified to host weddings and provide accommodation showcasing the areas natural beauty. It is a place to unwind, switch off and relax whilst enjoying the natural beauty around you.
The chalet was designed by Anthony Hunt Design and Luke Stanley Architects and measures just 28 square meters (301 square feet) in size. Its tiny, but packed full of character.
Facilities
Breakfast
Essentials
Fireplace
Parking (free)
Heating
Pet friendly
Self-service kitchen
Wi-Fi (free)
More photos
Tap any image to see it in fullscreen
Location
JR's EcoHut is nestled high on a hill with 360-degree views of the beautiful Murrambidgee river flats and of the stunning Kimo valley. The Ecohut is located just outside Gundagai on the famous Kimo Estate in the central farmlands of the state of New South Wales in cosy Kimo Estate offers the perfect location for weekends away from Canberra and Wagga and a lovely place from which to explore the local area.
How to get there
The nearest airport to the farm is the Canberra International Airport which is located about 180km away in Canberra. The easiest way to get to the Kimo Valley is to drive, which will take around 2 hours. If you don't have a car you can also consider taking the V-Line bus which runs once daily.