Cabin
2 Guests (1 bed)
1 Bathroom
Gawthorne's Hut is new award winning off-the-grid cabin that was designed to capture stunning views and to provide guests with peace, privacy and a sense of isolation in an otherwise stunning natural landscape.
The cabin was designed by architectural firm Cameron Anderson Architects who were tasked with designing a striking and unique cabin that stood-out, yet still felt like it belonged in the Australian countryside and didn't feel out of place.
The first thing you notice is the slanted, galvanised metal roof. This roof doubles as the perfect spot for some solar panels which help to make this cabin free of any electricity constraints. The large western side door hides storage, solar batteries and inverter, electrical board, and a gas water unit to help complete the setup. In addition to the 6.6kw off grid solar system and 12kw battery storage, the hut incorporates other sustainability features, including a 40,000 litre rain water storage tank, double glazed windows and doors, concrete slab and brick for thermal mass, reused brick, gas hot water, low water use bath fixtures, and passive solar shading.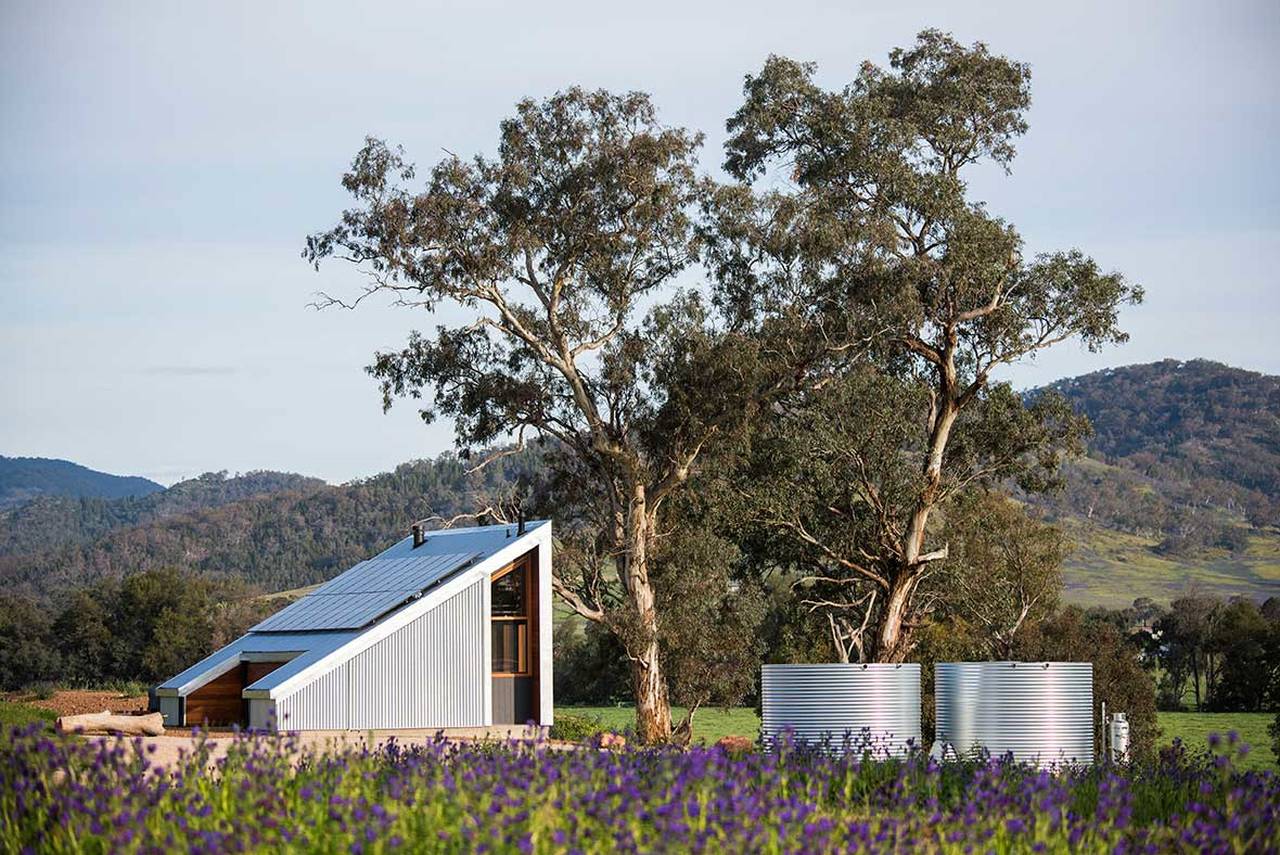 Inside, the ceiling, walls, and window frames are made from Australian blackbutt wood with warm tones that contrast the polished concrete floor and galvanised roof. The space remains warm and inviting (despite the striking exterior look) with natural timbers used extensively throughout. The large windows and doors capture the views of the beautiful Mudgee valley and the natural surroundings.
The cabin comes with all the amenities you would expect in a house of this quality including a large king sized bed, a fully equipped kitchenette, an indoor fireplace as well as an outdoor fire-pit and daytime air conditioning in case you need to escape a hot summers day.
The cabin is available for rent on Airbnb.
Facilities
Air conditioning
Coffee machine
Essentials
Fireplace
Parking (free)
Heating
Self-service kitchen
Self check-in
Wi-Fi (free)
More photos
Tap any image to see it in fullscreen
Location
Mudgee is a small country town in central New South Wales and is set in the middle of a prolific wine making area which makes it the perfect place to stop and enjoy the best that country New South Wales has to offer.
Some of the top things to do in Mudgee include: tasting excellent wines at cellar doors, enjoying fabulous restaurants with local produce and explore the beauty of Wollemi National Park which is nearby.
How to get there
The cabin is located just outside of Mudgee which is in the state of New South Wales, Australia. The town of Mudgee is around 200km north-west of Sydney which takes just over 3 hours in the car. If you don't feel like driving, there is a nearby Airport (Mudgee Airport (DGE)) which has flights daily and will take around 45 minutes.