Cabin
5 Guests (3 beds)
1 Bathroom
River Cabaan is an exquisitely renovated mid-century fishing cabin hidden on the banks of the Wilson River in Tillamook, Oregon.
Imagine a picturesque mid-century cabin, deep in the woods of the Oregon central coastline with your own private riverfront. Well, this is no dream, the cabin is real and you can have it all to yourself for a few nights, or more.
The River Cabaan is a two-bedroom and one-bath home that was originally built as a casual fishing cabin way back in the 1950s. Grounded in design, the owners Karie (an interior designer) and Lee (an architect) have brought this home back to life. The space has been cleaned up, appropriately modernised and lovingly styled into a bright and beautiful home that brings contrast to the often darker shades of the Pacific Northwest.
Boasting a magical view of huge forest trees and 300 feet of river frontage it's the ultimate outdoor escape and includes an outdoor firepit, grill/BBQ and extensive space to enjoy the sun and wilderness.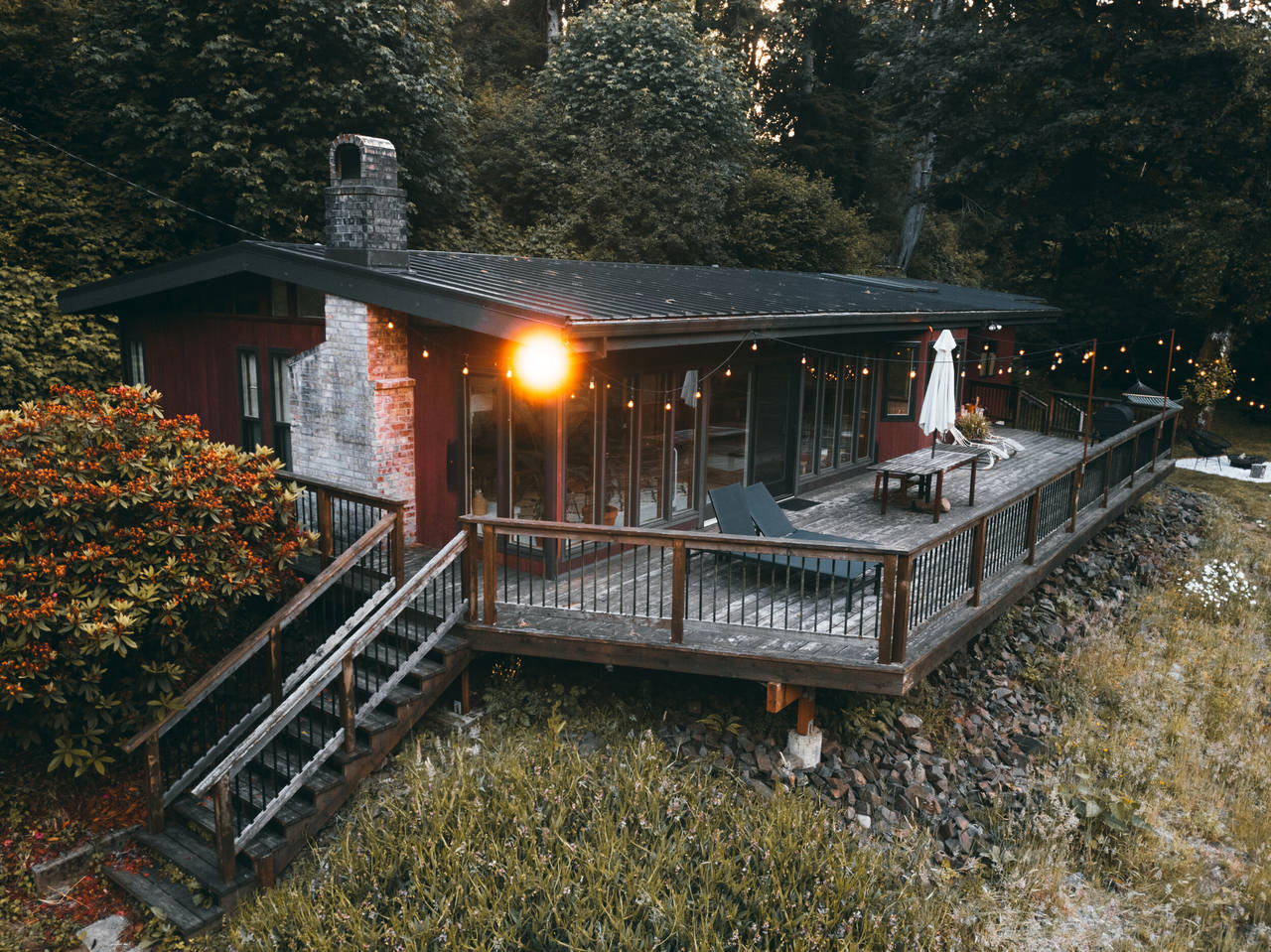 You can choose to soak in the all-day sun on the expansive deck with a glass of wine, or light a campfire on the private pebbled beach and then spend the rest of the day fishing and swimming right from your front door!
The cabin has a fully stocked kitchen with modern appliances and everything you need to cook as well as plenty of condiments. The cabinets are full of essentials like milk for your coffee or olive oil for cooking as well as the all-important coffee-making equipment.
The cabin has two Bedrooms, one with a large King sized bed and the other with a double Bunk bed for extra guests or the kids.
Facilities
Air conditioning
Coffee machine
Essentials
Fireplace
Parking (free)
Heating
Self-service kitchen
Self check-in
Wi-Fi (free)
More photos
Tap any image to see it in fullscreen
Location
The cabin sits on the banks of the Wilson River just outside the town of Tillamook in the Northern American state of Oregon and is around 1 hour by car from Portland or about 20mins from the Oregon coastline. Tillamook is one of the primary towns on the Oregon Coast line and is the best place to stock up for your stay at some of their local supermarkets.
There is no public transport to the Cabin and you'll need to drive there. There is free covered parking on site.