Perched on the edge of a hill overlooking the Mediterranean Sea, you'll find this stunning whitewashed farmhouse nestled intimately within a 5-hectare olive grove deep in the heart of Puglia and a stone's throw from the hillside town of Ostuni. Welcome to Masseria Moroseta.
Located about 3km from the coast sits the beautiful Masseria Moroseta. The bed and breakfast was built using traditional techniques and local materials and architecturally designed by Andrew Trotter. The initial impression you get when you first see the building is the reminiscent feeling of the ancient fortified farmhouses that are characteristic of the Puglian countryside, yet at the same time, it still feels modern and fresh.
The property has 6 rooms which are all built around a central courtyard and range in size from 24 to 45 sq. meters. They all feature king size beds, a large bathroom with shower, air conditioning and heating. The smaller rooms feature a large private outdoor space, some of them with a private garden and others with private terraces that overlook the fields beyond. The larger suites have a private living room with fireplace and daybed, for a possible third person. Each room has been built with a stunning vaulted ceiling and 80 cm thick walls to keep the building cool during the hot summer months and the entire building is efficiently designed to catch the fresh ocean breezes that sweep in from the nearby Mediterranean coast.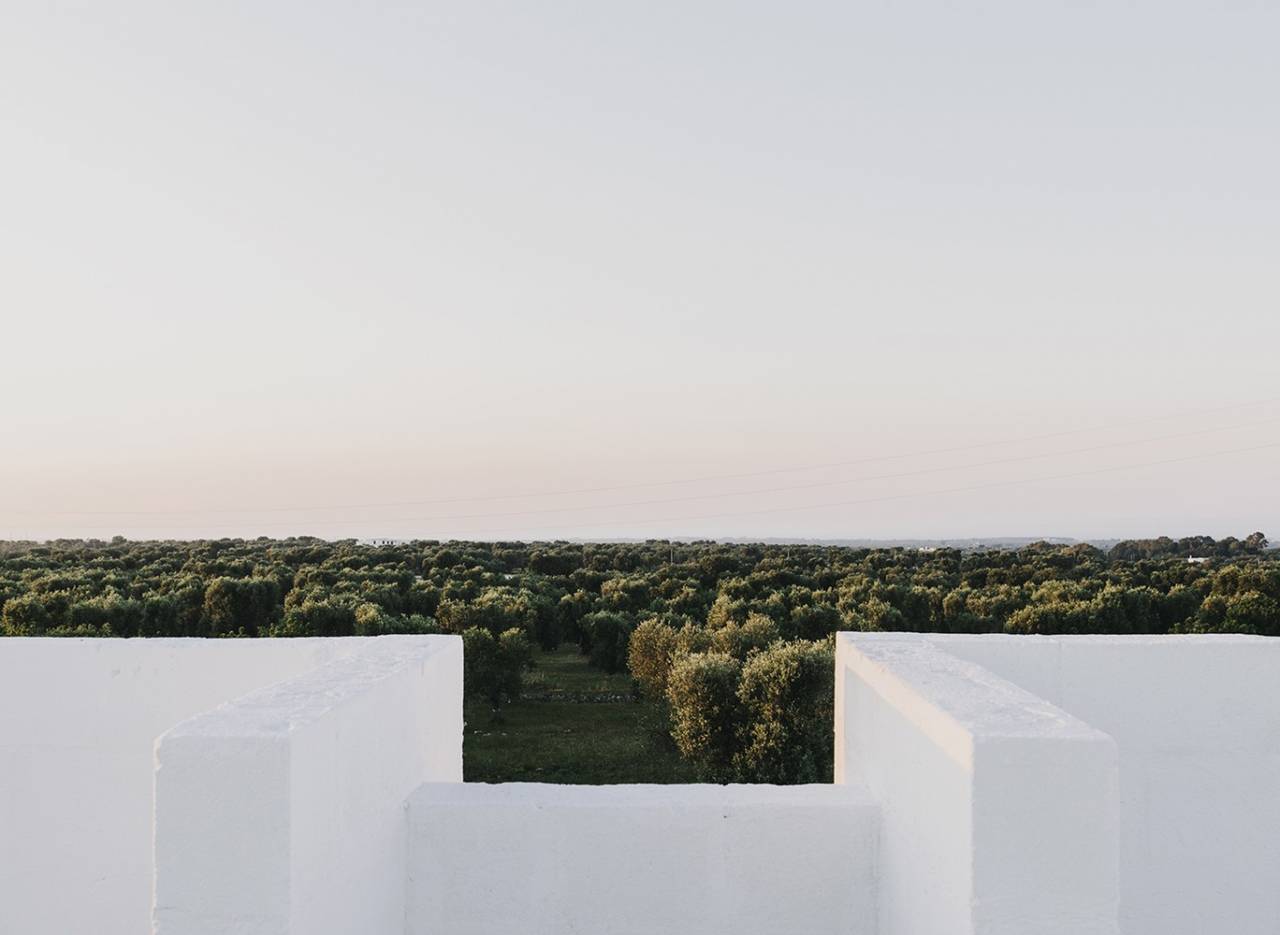 The hosts serve breakfast daily which contains only local, organic ingredients and are reported to be incredibly delicious! Each morning offers a different selection of varied foods, ranging from home-baked goods to fresh fruits, organic eggs to local yoghurt and muesli.
The brand new spa, steam room, and a private massage room are perfect for enjoying during the chilly winter months. Free parking and loaner bikes are included. Other amenities consist of a bar, a spa, and an outdoor pool flanked by olive trees. Yoga, cooking classes and horseback riding can also be arranged.
Facilities
Air conditioning
Bicycle Hire
Breakfast
Essentials
Fireplace
Parking (free)
Heating
Restaurant
Spa facilities
Swimming pool
Wi-Fi (free)
More photos
Tap any image to see it in fullscreen
Location
The property is located in the Italian region of Puglia, a southern region forming the heel of Italy's "boot," which is known for its whitewashed hill towns, centuries-old farmland and hundreds of kilometres of Mediterranean coastline. There are historic towns and villages to visit nearby, among the closest is Ostuni, about half an hour away by car is the beautiful seaside town of Polignano de Mare, and the fascinating ancient old town of Alberobello.
How to get there
The property is located about 10 minutes outside the town of Ostuni which is about 80 km south of the city of Bari and 35 km north of Brindisi where you'll find the two nearest airports.
There are regular train services to both Bari and Brindisi and from there you can connect to the rest of Italy. Bari is around 3 hours from Rome by high-speed train with multiple trains running between the two cities daily.
If you don't feel like taking public transport and have access to a car, the drive from Bari will take around 1 hour and about 45 mins if coming from Brindisi.