House
4 Guests (2 beds)
1 Bathroom
Do you dream of spending your days sitting on a clifftop in Santorini, gazing out at the mesmerizing views of the greek isles? If so, then this is the perfect island rental for you.
The house is a luxurious, recently renovated Cycladic-style home with two cave-like bedrooms, a kitchen and lounge room, plus a stunning outdoor terrace that comes with its own hot tub - all with stunning views of Santorini's caldera. There is a private rooftop terrace that offers possibly one of the best views on the island.
Each of the bedrooms come with queen sized beds and one also has its own ocean views and even has a swing that sits framed in the window with its own uninterrupted views out into the distance. The house comes with a small, but fully equipped, kitchen that will allow you to prepare your own meals if you choose, maybe even cook some fresh fish you bought at the local markets.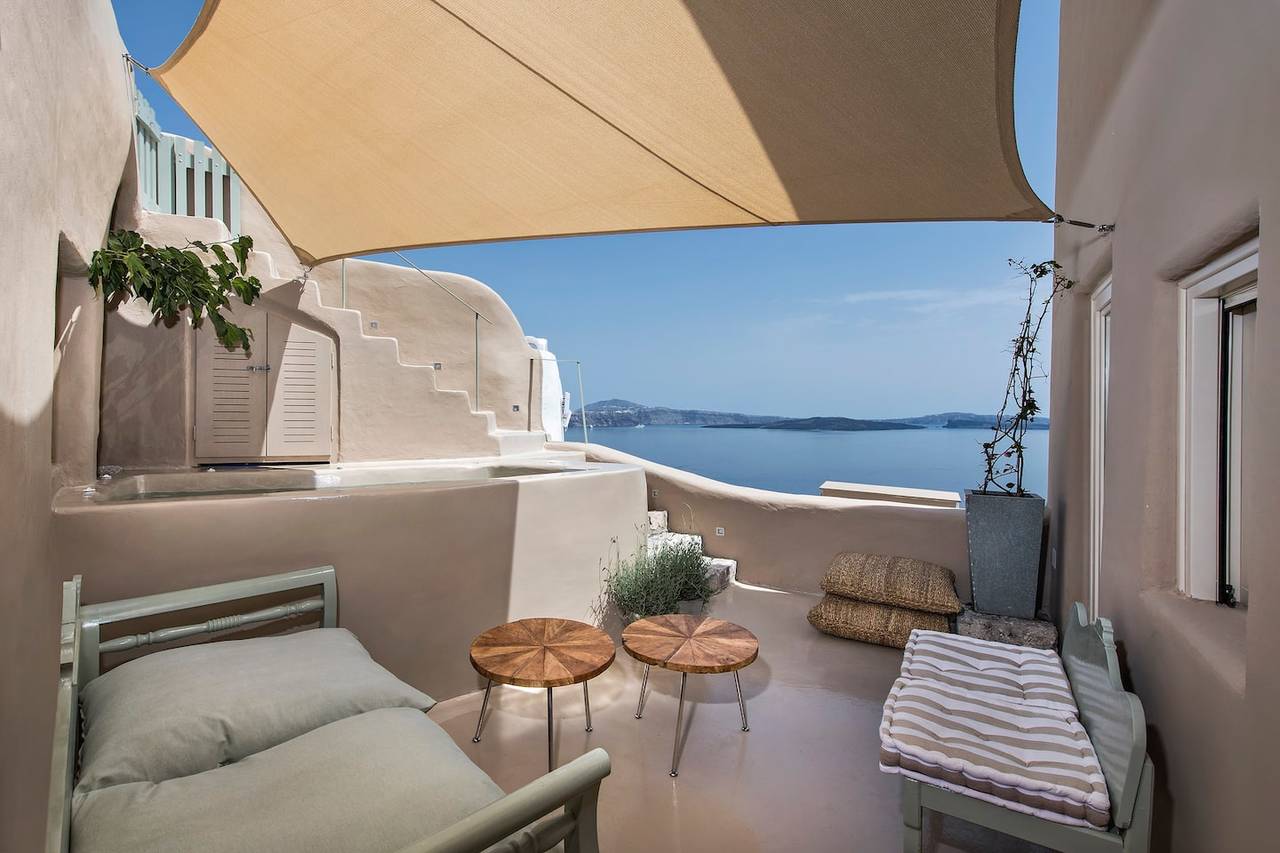 The Ammos Oia Mansion is just a short stroll away from Santorini's famous Sunset Point and the waterfront tavernas of Ammoudi Bay, making it the perfect spot to watch the sunset with a glass of wine in hand.
If you're looking for a Santorini vacation rental that will offer you privacy, luxury and some of the best views on the island, then look no further than Ammos Oia Mansion. Book your stay today!
Facilities
Air conditioning
Coffee machine
Essentials
Parking (free)
Heating
Hot Tub
Self-service kitchen
Washing machine
Wi-Fi (free)
More photos
Tap any image to see it in fullscreen
Location
Ammos Oia Mansion is located in the small town of Oia which sits high atop the cliffs on the northern tip of the famous Greek island of Fira (Santorini). The town has become famous all around the world for its authentic Cycladic beauty, whitewashed houses, labyrinth-like alleys and amazing hotels, although the top thing Oia is known for is its magical sunset. Hundreds of people gather every evening to watch the sun setting above the Aegean Sea and capture the most beautiful sunset in Greece. Straight out of a postcard, Oia is certainly the most picturesque village in Santorini -and some may claim it is the prettiest one in Greece!
How to get there
The easiest way to get to Oia is to take a ferry from the Port city of Piraeus (just near Athens) to Santorini. These ferries leave daily and usually take around 4-5 hours to get to Santorini. If you are in more of a rush, there is an airport on Santorini (JTR) that has hourly flights to Athens as well and many other popular greek islands.