Moss is a brand new 41-room boutique hotel located in Hobart's historic docks of Salamanca Place in an 18th-century Georgian sandstone warehouse.
The hotel is positioned within the original stretch of 18th-century warehouses in Hobarts Salamanca area that was once home to the small cities traders, whalers, publicans, gentlemen and convicts.
Number 39 Salamanca Place, originally a sailors pub, has been through many different lives such as a trade house, a brothel and a most recently a popular nightclub. The three-storey sandstone building is now set for a new chapter as a boutique hotel but retains plenty of tell-tale signs of its interesting former life. Moss is one very welcome addition to a city that has long been overdue for a proper boutique hotel
Guests can choose from four rooms types– Bower, Grove, Grove Balcony and Grove Bath. These rooms, spread across Moss 39 and 25, feature an added dimension of greenery brought inside through the use of vertical internal gardens.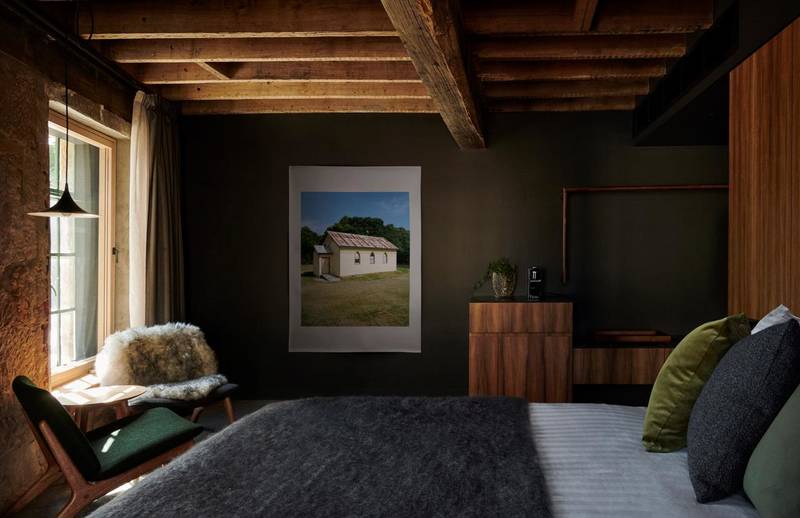 Moss' design, which is heavily inspired by local scenery, incorporates features that are unique to the Tasmanian natural world. Some of these features include Tasmanian Blackwood joinery found in the bed frames, cushions resembling the colours, textures, and patterns found in the natural Tasmanian landscape, and Tasmanian Sandstone side tables.
"This is a hotel that's alive and growing, literally and thematically, and I love that." Walls were stripped back, says hotel general manager Rod Black, to expose convict cut sandstone walls, and Tasmanian architecture studio Circa Morris Nunn has retained original rafters and tin roofs and installed glass atriums to span the building's original and newer bones.
It's not just convict history being preserved in the recent renovation of Moss – in their most recent reincarnation, rooms 22 and 23 were part of the top-floor Syrup nightclub, which closed in 2016. Old DJ posters cover parts of the walls in those rooms to remind guests about the fun and colourful history of the rooms they are sleeping in.
Facilities
Air conditioning
Breakfast
Essentials
Parking (paid)
Heating
Wi-Fi (free)
More photos
Tap any image to see it in fullscreen
Location
Hobart's Salamanca Place is renown for its historic buildings that house artist studios, pubs, restaurants, cafes, galleries and craft shops. More shops, cafes and restaurants surround nearby Salamanca Square. Salamanca Market is held in Salamanca Place every Saturday.
With its prime location in the heart of Salamanca Place, Moss is a springboard to the rich cuisine, culture and nature that Tasmania has to offer.
How to get there
The nearest major airport to Hobart is the Hobart International Airport. It takes around 20 minutes to get to the city centre from the airport by car. It is recommended to hire a car if you don't have one as public transport is limited and a car is the best way to explore Hobart and the surrounding region. If you don't have a car, there is an hourly bus from the Airport to the city centre which takes around 35 minutes.