Cabin
2 Guests (1 bed)
1 Bathroom
Located on the remote bottom of corner of Australia on the stunning Bruny Island (off the coast of Tasmania) you'll find this simple and minimalistic Cabin, it is green and sustainable and is so wild that you'll feel a million miles away from civilisation.
This off-the-grid cabin is small, compact and perfectly suited a couples weekend getaway. The interior of the cabin has been covered in soft Baltic Pine that helps it blend in with the surrounding wild environment. Sitting in the living room you'll feel as though you are a part of nature.
The downstairs of the cabin consists of a small kitchen, living space and dining area. There is a set of stairs that leads up to the loft with King-sized bed and soft, natural linen.
The cabin comes equipped with a fully equipped kitchen and provides all the utilities you'll need to cook your own meals if you want. There is a wood-fired baker oven, that doubles as a heater as well as a stove top and oven. (The host has kindly supplied more than enough firewood to keep you warm on even the coldest of nights).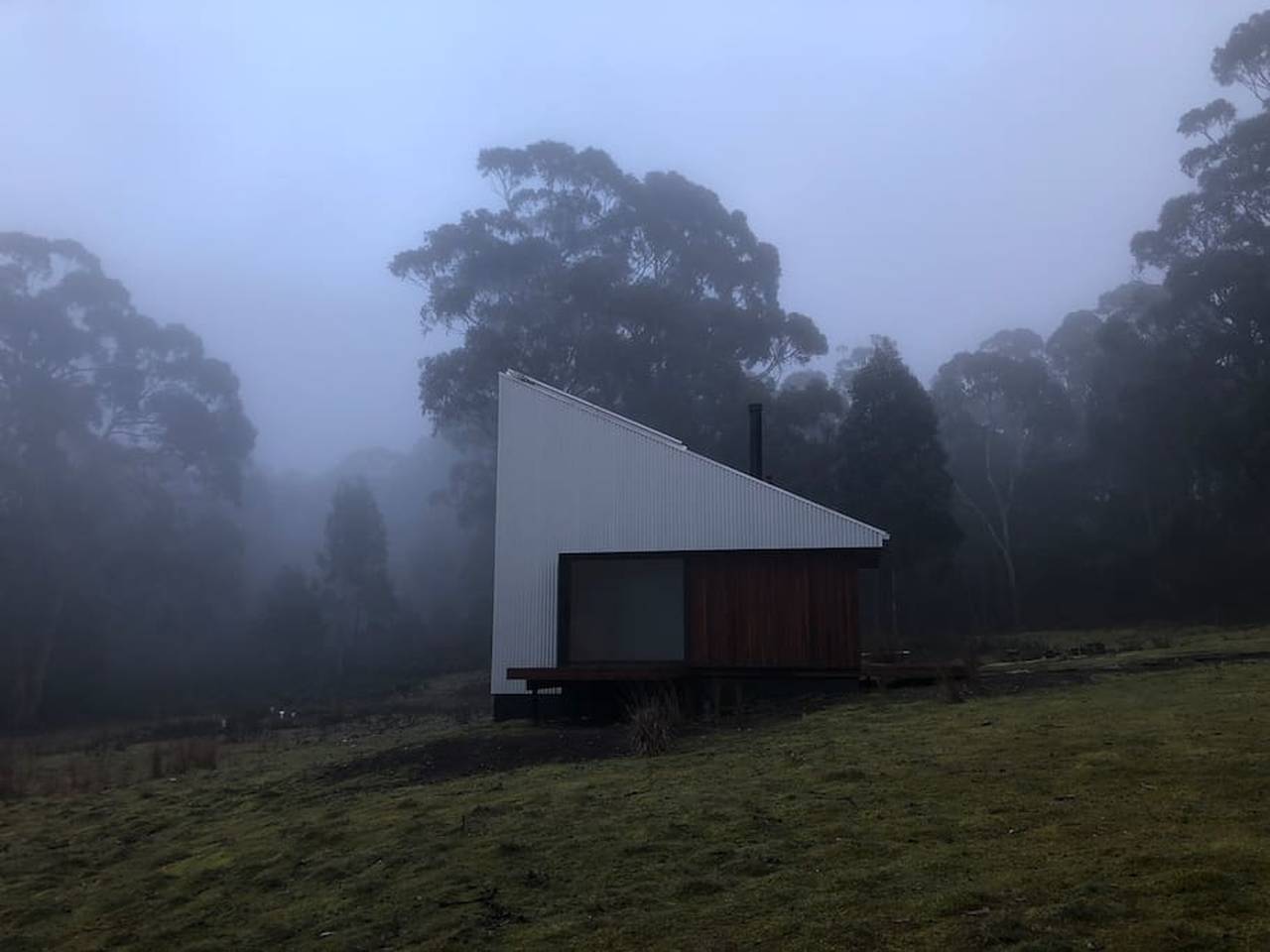 Outdoors there are two large and spacious decks opening out on either side of the living space. One of them comes built in with a stunning outdoor bathtub built-in where you can relax in absolute privacy and enjoy the wilderness and some well-earned peace and quiet.
Please note: The cabin is quite remote and there is limited access to power and phone signal. However, you're not too far from amenities - the local grocery shop, fish & chips, the Bruny Hotel pub and the pharmacy are within a couple of kilometres. There's a great jetty to fish off and so much more to explore on this lovely island.
We highly recommend you have a car when visiting Bruny Island. Whilst it can be accessed without one, you won't get the full experience if relying on public transport/walking.
Facilities
Essentials
Fireplace
Parking (free)
Heating
Self-service kitchen
Self check-in
Washing machine
Wi-Fi (free)
More photos
Tap any image to see it in fullscreen
Location
The cabin is located on Bruny Island which is about an hour south of Hobart and connected by a car ferry to the town of Kettering. The island is about 50 km long and appears almost as two islands, with the North and South Bruny joined by a narrow strip of land called The Neck. This isthmus is an important habitat for native wildlife. The island also has some of Tasmania's most beautifully preserved natural environments with abundant wildlife, crystal clear waters and stunning cliff top views.
How to get there
Bruny Island is a remote and relatively isolated island, however, access by car is quite simple and cost-effective. From Hobart, it will take about an to drive to Kettering (from where the car ferry departs). The Ferry runs every 30-minutes during peak season and hourly during off-peak seasons. The journey takes around 15-minutes From the ferry terminal on Bruny island, it's only a 10 minutes drive to the cabin.
The nearest airport to Bruny Island is the Hobart International airport which is an additional 20 minutes north of Hobart. The airport has regular connections to most capital cities in Australia as well as some selected overseas destinations.