Cabin
2 Guests (1 bed)
1 Bathroom
Captains Rest is a Historically Listed, waterfront cottage in Lettes Bay Village, just outside of Strahan, Tasmania. Complete with its own jetty out the front, you're sure to fall deeply in love with this place.
Along with its neighbours, the Captains Rest is a historically listed structure that comes complete with its own jetty and stunning views of the water and rainforests.
Restored and designed by a creative director and native Aussie, Sarah Andrews, the house is her pride and joy and is decorated with love and delight with objects and furnishings from around Australia and the world.
The cottage is brimming with curated collections, fine linens, cosy textures and objects of delight. It's a cottage that is truly lived in and has a warming character and soul. The owners also create small runs of original, handcrafted items for sale including heavyweight linen captains bags and prints and textiles.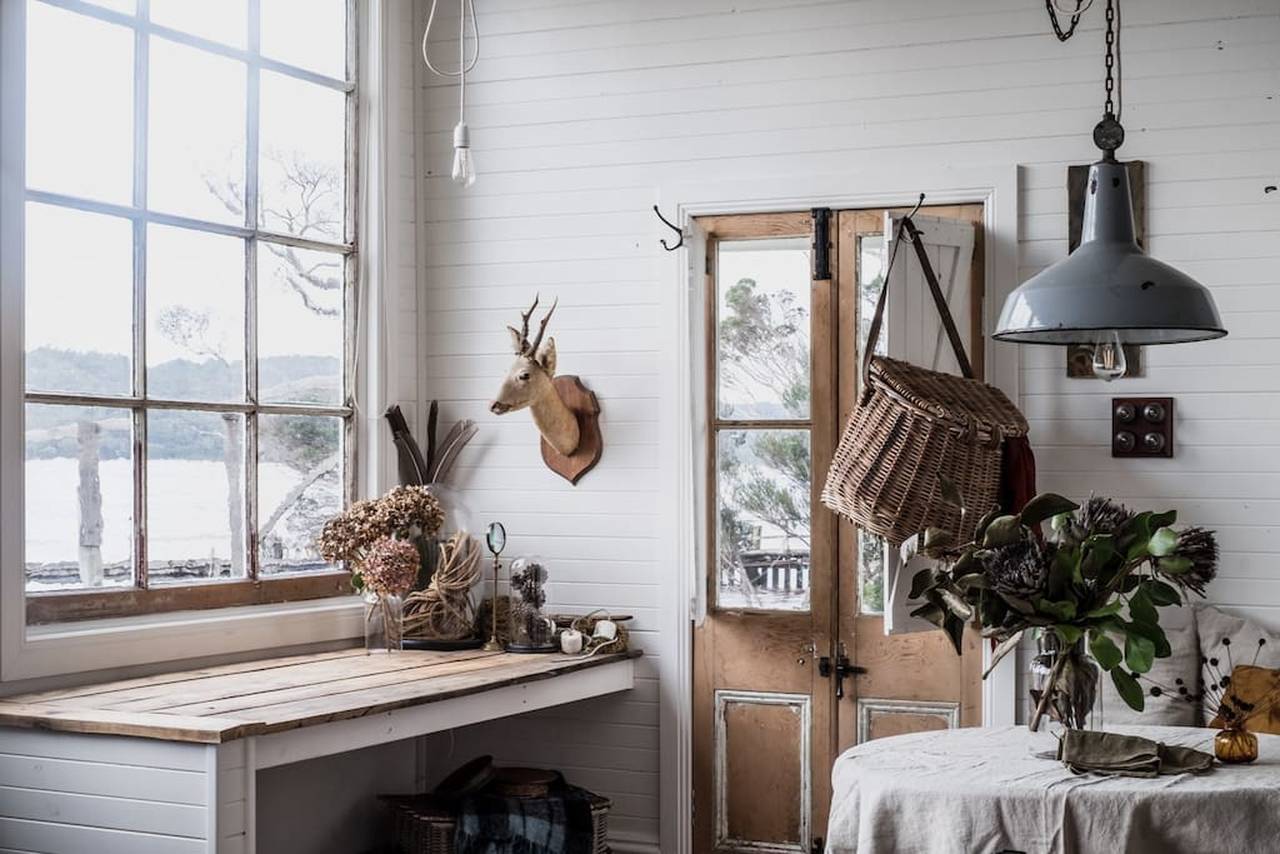 From the main living area, the clawfoot bath and the bedroom you can look out the huge antique windows to views of the bay, the pristine mountains and the ever-changing sky.
In terms of practicalities, you'll have access to a full kitchen, satellite wifi, TV, picnic amenities, cosy wood heater, electric blanket, wall heater, basic provisions and firewood. There is also plenty of room for parking, including those towing a boat or caravan. The cottage consists of one main bedroom and one bathroom and is most suited to a single couple.
Facilities
Coffee machine
Essentials
Fireplace
Parking (free)
Heating
Self-service kitchen
Self check-in
Wi-Fi (free)
More photos
Tap any image to see it in fullscreen
Location
Strahan is a tiny fishing village located 300 km west of Hobart and 40 km from Queenstown. It lies on the edge of the unspoiled beauty of Macquarie Harbour and could easily be considered the last outpost of civilisation on the west coast of Tasmania and surely one of the loneliest places on earth.
Strahan is the gateway to the UNESCO listed Franklin–Gordon Wild Rivers National Park and the West Coast Wilderness Railway, the town is also a great jumping off point for exploring the pristine rainforests and waterways of the interior.
How to get there
Strahan is wild, woolly and remote - you'll need a car for your trip here. Be aware that the only mobile coverage is Telstra, so make sure you have printed your instructions and are organised with the house manual for easy access to the lock box.
The nearest major airport is in Launceston which is a 4-hour drive away. If you are coming via the Spirit of Tasmania from Melbourne, you'll arrive in the town of Devonport which is slightly closer, at just 3-hours from Strahan.