Set at the foot of the Simonsberg mountain range in the Franschhoek wine valley of the South African cape Winelands sits Babylonstoren, a sprawling hotel, restaurant and farm estate.
Babylonstoren is one of the oldest Cape Dutch farms in South Africa, originally built in 1777 on the foundations of a previous historic farm dating from 1690. Babylonstoren is not your typical farmstay hotel and offers luxurious boutique accommodation, fine wines and cuisine and a range of outdoor activities in a beautiful rural setting.
The hotel - built by former magazine editor and local style guru Karen Roos - originally comprised just the 13 Garden Cottages and has now been expanded to include a Farmhouse Suite, Family Villas (with their own private pools) and additional cottages and villas. All of the cottages and buildings have been built in the traditional Cape Dutch style which brings a strong sense of heritage and warmth to your stay here.
Amazing accommodation aside, Babylonstoren also includes a functioning winery (which produces everything on site, from grape to bottle), a 3.5-hectare fruit, vegetable & spice garden (designed by French architect Patrice Taravella), an onsite spa, wine-tasting cellars, boathouse with row boats & a pervasive sense of tranquillity that follows you everywhere.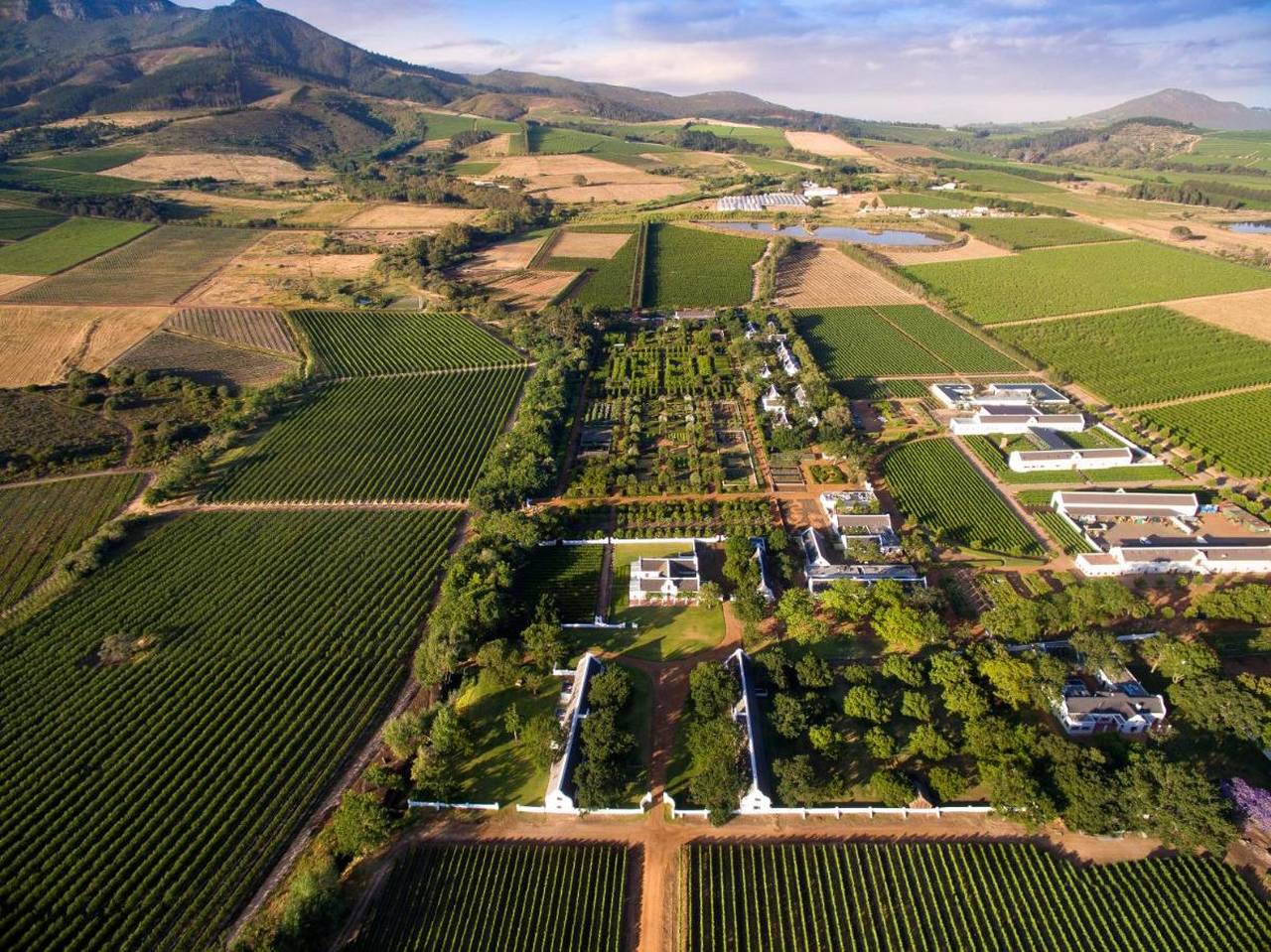 Throughout summer in South Africa, the tables at Babel - the main restaurant - sell out almost as soon as the online bookings open. Just about everything on your plate is grown in the garden; it's a classic fork-to-table story but the variety produced by this eight-acre vegetable garden is quite astonishing.
Spend your days here relaxing by the pool, exploring the vast vegetable and herb gardens, being pampered in the spa or if you're more interested in getting out and exploring the region, try visiting the local nearby wineries or even going on a day hike on some of the nearby mountain ranges.
Facilities
24-hour front desk
Air conditioning
Airport shuttle
Bicycle Hire
Breakfast
Coffee machine
Essentials
Parking (free)
Heating
Restaurant
Spa facilities
Swimming pool
Wi-Fi (free)
More photos
Tap any image to see it in fullscreen
Location
Babylonstoren sits nestled in amongst the sprawling Wine Farms (Vineyards) of the Cape Winelands and the mountainous nature reserves of Jonkershoek and Simonsberg. It's about halfway between the two towns of Stellenbosch and Franschhoek and is around 1 hour from Cape Town.
Stellenbosch is officially the second oldest town in South Africa. It is renowned worldwide for its natural beauty and oak-lined avenues, Cape Dutch architecture, history and culture – and of course its fantastic wine farms that Babylonstoren is a part of. The town is a lively and active centre servicing the surrounding region and is abuzz with hotels, wine shops, cafés, restaurants, boutiques, art galleries and museums.
How to get there
Without a doubt, the best way to get out this region is by car. Most of South Africa is quite poorly connected when it comes to public transport, so be prepared to hire a car and do it yourself. But that's all part of the fun as having a car allows you to truly make the most of the region and the numerous surrounding wineries for which this area is famous.