Cabin
4 Guests (2 beds)
1 Bathroom
The Catuçaba Eco Cabin is a compact yet very comfortable cabin located about 3 hours north of São Paulo in the South America country of Brazil. Its the perfect space for a couple that wants to get away from it all and connect with nature.
The cabin has been designed as a long rectangular shaped cabin with all the internal rooms laid in a single row. Starting from one end of the cabin, you'll find a cosy enclosed balcony complete with a hammock that offers the perfect place to relax with a drink and watch the day go by.
Further into the cabin, is the dining area, lounge and kitchenette. Whilst small, the kitchenette comes with most of the equipment you would need to spin up a quick breakfast or dinner. There is an additional, larger, open-air deck that leads out from the living area through a pair of sliding glass doors. This room also contains a small wood burning fireplace that will help keep the chill out of the air in the colder months.
The large bedroom and bathroom make up the other end of the cabin and come furnished with all the creature comforts you may need to enjoy your stay. From the bed, you'll find amazing, uninterrupted views out over the treetops and all the privacy you could imagine.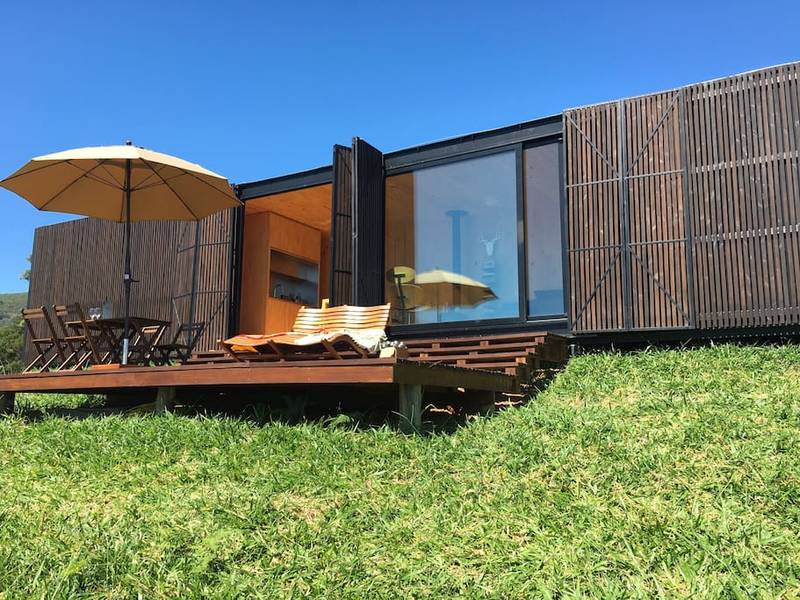 The property also has an additional detached deck which overlooks the lake which has a small floating dock on it and is the perfect spot for a refreshing dip on a hot summers day.
The cabin is a first in its kind in Brazil. It has been designed and built using a prefab system called MINIMOD and was developed by MAPA Architects. There is one other MINIMOD on the estate with a slightly different layout (which you might see on your way up to this cabin).
Facilities
Essentials
Fireplace
Parking (free)
Self-service kitchen
More photos
Tap any image to see it in fullscreen
Location
The cabin is located in Catuçaba, which is about 3 hours by car from São Paulo. The property is part of a former coffee plantation estate which dates back to the 1840s and borders on the Serra do Mar State Park. If you climb up the hill behind the cabin around sunset on a clear day, you will see a sunset like no other and a view that stretches out to three different states.